The African Queen is great cruise, but we rafted down the white water as well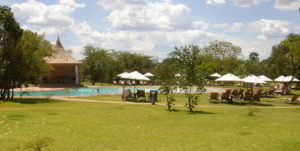 Zambia was a complete surprise for us. Our travel agents suggested a three night stay on the way out to South Africa, we took two, wish we had stayed a week. We stayed at the Zambezi Sun and the Hotel was exceptional, and it felt like we were in Africa, not just at a resort.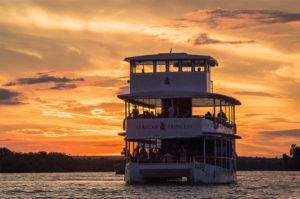 The African Cruise Company has two vessels; the impressive African Queen, a triple deck 70 foot catamaran and the slightly smaller, but equally luxurious African Princess. Both offer the charming combination of the mighty Zambezi River and gracious hospitality; unforgettable experiences that will take you back to an era when time stood still.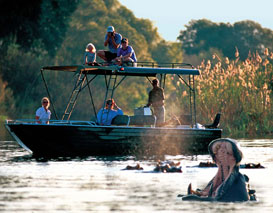 Travelling the Zambezi on a tour, watching the sun go down, and seeing the animals that close was a combination we will never forget, and we have done a jeep safari, and done tree tops which we also rate highly. This was totally different.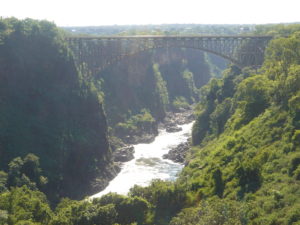 They bungee jump from this bridge which was not far from our fantastic hotel. It is a vast drop over the water. The bridge separates Zambia from former Rhodesia, or Zimbabwe as it is now known and it is fiercely guarded and you cannot cross. It is amazing how different the two counties can be just separated by this bridge.
We did not do the bungee but a sheer jump off the gorge. A 160- foot sheer drop. You reach a speed of 180km/hour in this drop which is called the Gorge swing. It is a strange use of a swung wire that just lets you drop then slows you down by clever use of slackness in the wire. The video is on an old tape format that we will get converted, in the mean time here is someone else's because you need to see it. It is a breathtaking experience.

gorge swing victoria falls
Were we mad, yes…. and even more mad to have white water rafted down what is one of the hardest rivers to travel. Here is the end picture and video to prove we did it. That was our raft. Team Doris!
I can highly recommend Zambia and will repost this when we convert the old footage. In the mean time it stays in our bucket list and world adventure area. It is certainly not cruising, though given the water slides and zip lines found on some of the newer ships, maybe it is totally on point.
See the newer ships with huge rides click here.