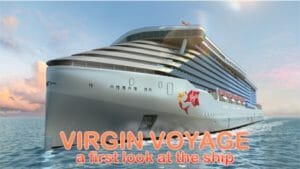 Is this the look of Richard Branson VIRGIN VOYAGES new ship? The base, or keel has been laid in dry dock and they have started work, so they know what it will look like. They have even welded newly minted coins into the keel for good luck. It will be made in sections, around 400 to be precise, and the mermaid guide seems to be a logo for the brand. Naked top half, but modesty protected by her flowing hair. The mermaid at the front of the ship is a historic guide often carved on wooden ships. They claimthe ship is to be built with a unique level of sophistication paired with an unapologetic aire of mystery. It is meant to be a design that will excite and inspire sailors, that means crew and guests, to want to explore every corner. The hints we are picking up for the name seem to be lady and hero, but our gut tells us Richard will want his own name in there somewhere. You can get on the list to be amongst the first with a $500 deposit, but that does not guarantee and inaugural sailing. See here. Or join the chat.
There's a chat group for your ship – click here to find it
It is claimed that the first ships at Virgin Voyages will be adult only. Not having to deal with all ages does reduce the facilities and training needed while the line finds its sea legs, or is it a direction for the brand?
Please subscribe to the Doris Visits YouTube Cruise Destination Guide channel here
Virgin are on a mission to change cruising for good. Sir Richard Branson is aiming more at the American market, the teaser for the ship has a very American voice singing a theme that might remind you of Frozen, and basing out of Miami. Avoiding the word Cruises, or the title Virgin Cruises he has branded it Virgin Voyages. He says that he wants to transform the experience and make his cruising 'the most irresistible holiday at sea', he is making quite a statement. That does infer he wants to be seen as better than the rest. That is a tall order given some of the ships at sea but Tom McAlpin (a former president of the Disney Cruise Line), the president and CEO of Virgin Voyages claimed. "This is anything but just another cruise or holiday, it will be a transformational experience delivering a very 'Virgin style' of adventure." As a young man choosing the name virgin was bold, but mixed with cruising or voyage and there are half a dozen romantic novels with any version of the title. Her Virgin Voyage is a romantic novel that takes place on a Canary Islands Cruise, on board a ship similar to the Azura / Ruby Princess and the size of Branson's first ship. The second book takes place on a Baltic cruise and the third one gets to Florida.
novels set at cruise locations page

Virgin Voyages first ship, a 2,700 passenger size cruiser, will arrive in Port Miami in 2020 to operate from there as it's home. That is the year so many new ships are being launched including P&O and MSC's biggest yet. Branson's second ship will be ready in 2021 and the third in 2022. Sir Richard claims that, "thousands of future sailors and travel professionals shared their thoughts with us and tasked us with delivering the most irresistible vacation at sea and that our name alone should leave them dizzy with anticipation." He went on to say, "I'm excited to reveal we are now Virgin Voyages, and while we have lots of work ahead to build our three ships, we can't wait to welcome you aboard the ship of things to come." This is why ports like Tortola as we show in two films just months apart, are expanding their ports and docking areas as fast as they can.
Click here for the special CARIBBEAN SEASON menu. Islands and Caribbean Season Destinations here !
ROMANTIC CRUISE BOOKS P&O LATE DEALS Amber Cove