Tortola has been welcoming guests since Nov 1st following the storm Irma in 2017. It has not been their best year but it had minimal damage to its new cruise terminal and it is open again. Tortola is one of the most popular Caribbean islands to draw people seeking the sun. The Botanical Gardens can be put on your trip planner.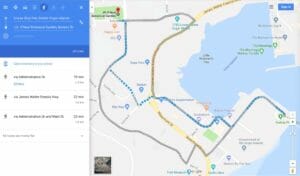 If you are not a beach person, then you will be looking at a walk round town, a bus tour of the island or maybe a relaxing few hours in the refuge of nearly 4 acres of Botanical Gardens. Established in 1979, the J.R. O'Neal Botanic Gardens are in the centre of Road Town with a lush array of indigenous and exotic tropical plants as seen in our film.
CHAT GROUP – The Caribbean is open, if you have been there, share your experiences. Cruise the Caribbean Chat – If you want to visit, ask questions. Here is where you are the knowledge base – CLICK HERE TO SHARE & CHATThe pergola walk, lily pond, waterfall, tropical bird houses, orchid house and miniature rain forests are just a few of the garden's attractions. The National Parks Trust's Description: At the site of the century old Agricultural Experiment Station, the Botanic Gardens are a beautiful oasis in the centre of Road Town. They are named after the BVI's first conservationist, Joseph Reynold O'Neal who was a leading figure in the formation of the National Parks Trust and the establishment of the BVI's first national park, Mt. Sage National Park. The avenue of royal palms which leads to the fountain makes a captivating entrance for visitors, whilst paths disappear into corners of the garden lined with colourful blossoms drapped over shady pergolas. The boatic collections represent the different habitats of the BVI such as the rainforest, coastal environments and dry forests, in addtion to displays of exotic species and an extensive collection of palms. A gazebo of orchids both, native and exotic can be discovered by the pond, where lilies float and tortoises swim. The nursery at the garden is an important repository for endangered species of flora found within the BVI, such as the Acacia anegardensis, ensuring their survival from habitat loss.
P&O Cruises cruises to Tortola – view P&O Tortola cruises here Fred Olsen cruises to Tortola – view now on the Fred Olsen site here Saga Cruises to the Caribbean – view there site here by clicking now
The museum we're looking for is not hidden or uninviting, but it's a poorly signposted elevated white house with brown windows that does not even have the lights switched on. Had Aled not pinpointed this as his chosen destination with his smart phone we could have easily walked past it, even if we found our way to the road at the back. I need to get smart with my phone just as this museum needs a little marketing and sales help. Everyone should visit the BVI Folk Museum. I'm stuck to the floor, rigid, staring at a poster that states,

'To be sold on board the ship, 250 fine healthy Negroes. The utmost care has been taken to keep them free from the danger of being infected with smallpox'.

Eventually I raise my head from this dreadful reminder of how awful man is capable of being to fellow man for financial gain. I look around the museum at those who lived through that era and fought for better. Every picture tells a story and each story needs to be read. It shows the history of the islands inhabitation from 100BC when the Arawak arrived. It lists the Africans being here in the year 1200 having come across from the mainland, well before Columbus discovered the already inhabited Americas. He didn't so much discover as herald the nightmares the Europeans started when arriving in 1493, stealing lands and profiting from the slave trade by 1700 then on until the slave act was repealed in 1788. That leaves me cold, wondering if Bristol and Liverpool have museums admitting the same. I note Aled studying each exhibit; making notes and sketches, taking pictures with his camera and making notes again.

"More paintings?" I ask him softly.

"I couldn't do this subject justice, and if I did, they wouldn't sell. People don't want to be reminded why the country they live in has so much wealth," he says and turns his head to scan the room. "We stole most of it, from just about everywhere in the world. It doesn't matter how you get rich as long as you do, eh?" he states sarcastically through a locked jaw.

"We know it's wrong now," I offer and he turns abruptly.

"It was morally and religiously wrong then! Even more wrong, after it was outlawed in England, our ships continued to trade slaves illegally by flying different flags! The wealthy ship owners continued to supply their wealthy estate owning relatives, who had taken all these lands. They did wrong knowing it was wrong, knowing the law had changed!" he lectures passionately. This generation sees things so differently and are not prepared to have things hushed up.

"Good point," I congratulate him, not just because he is right but because he cares. We stand on the veranda looking out and Aled takes his phone again.

"Are you letting people know you were here?" I ask him.

"Damn right I am," he says.

Our film around Road Town features the slavery museum. That location and the botanical gardens you note are locations in the novel for Sally Katz in her book American Portrait. She used our films for research, and because of our relationship with her, we have now had permission to print that extract from her novel – American Portrait. Violet has just got off the ship and the young artist that runs the on board gallery has found her, and asks her to go with him to visit a museum he wants to see.
If you are new to Doris Visits Cruise TV then welcome, we invite you to comment at the end of our blogs, and ask you for follow us on here on www.DorisVisits.com and like us on Facebook and follow us on Twitter and subscribe to our YouTube Channel to get the best from us. We are always looking for a social media persons to help us expand so drop us a line anytime at press@DorisVisits.co.uk PLEASE SHARE
SEE THE CRUISE BEFORE YOU CRUISE THE SEA. We show cruise destinations all over the world.
READ THE CRUISE BEFORE YOU CRUISE THE SEA. In the book charts!
Sally Katz used the films on Doris Visits to peg her books on! With permission. Each book takes place over a cruise! Book 1 is a Canary Islands cruise, Book 2 is in the Baltic, Book 3 is in the Caribbean and has a major story plot in Tortola.
If after reading this you want to learn more about the books you can listen to the first part of chapter one of book 1, Her Virgin Voyage here in another blog. Romance aside we think they are great stories about a powerful and determined single woman.
CRUISE INSURANCE THAT EVEN THE CRUISE SHIPS SELL, AND WE ADD NOTHING ON, JUST CLICK HOLIDAY EXTRAS – OR OUR BLOG
If you are new to cruising then we have a few pages that might be of interest. The first is about choosing that first cruise. It includes what ship and why, as well as dress code tips. Click here.
The second is about what to pack, then click here.
Then we have a page that just collects all the many useful links to get you to the right cruise deal page to see what is going on offer direct from the cruise companies. Click here.
We would be pleased if you booked via one of our links, if you do then please tell us so we can see if the tracking worked.
Finally, we have a number of cruise chat sites that are there to be a source of information. The more members the great the knowledge base.