#Stictly Come Dancing new line up – Friday 22nd September is tipped as being the start of the new series of Strictly Come Dancing. It may well be a tribute night to the great Bruce Forsyth who sadly passed on the 18th August. Both Stuart and I got to work with him on the Generation Game, Stuart went back twice and did Stunt Fight episodes where he judged the public. If only we had YouTube back then we might have those memories but it was without doubt a different era. 
Strictly Come Dancing and Cruising are such a perfect match, and seriously, the studio holds only 600 public viewers in Elstree, and many of those are guests of stars so the chance of getting a ticket is probably the same as winning the Lottery. Even Blackpool only holds 900. So, the dancer's own tours have become a success but the real dream ticket is the Strictly Cruise and the dates for next year have already been announced. My guess is the cruises are already selling in a big way.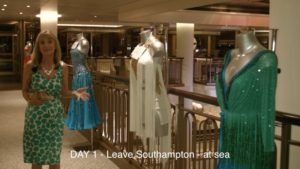 Our own Stuart St Paul was on board the last SCD cruises as a celebrity speaker as he had connections with Arlene and Bruno from the early 80's pop video days including Duran Duran's Wild Boys. There it was revealed dancers Janette and Aljaz are back, as are Karen and Kevin. Also announced on the ship this summer was new judge Shirley Ballas who replaces Len as head judge. Shirley, 56, of Wallasey in the North of England is a Latin dance champion nicknamed, The Queen of Latin. A big hit in the USA as a judge on Dancing With The Stars, she is rumoured to have outshone job rivals Anton Du Beke and Brendan Cole at auditions for the new #SCD season. Maybe, but I suspect both are being readied for another panel leaver or double take over. The Sun claims that the following celebs are confirmed.
Gemma Atkinson from Emmerdale (Stuart worked on Emmerdale for 26 years and also talks about that show when on board ship)
Ruth Langsford the ITV presenter.
Davood Ghadami from EastEnders (there is always one)
Mollie King from The Saturdays (always a pop star)
Brian Conley, TV funnyman.
Rev Richard Coles is a priest and former pop star with the Communards.
Joe McFadden from Holby City. (home BBC team member)
Aston Merrygold's a dancer known as the JLS pop star may start as favourite.
Simon Rimmer from Sunday Brunch.
Susan Calman a Scottish comedian from QI, Have I Got News For You and Mock The Week.
Charlotte Hawkins, news reader from Good Morning Britain.
Debbie McGee is a TV personality who was a tennis partner of mine in Barbados for a few weeks when we were at the same hotel as her and Paul Daniels.
Chilly Akudolu, actress and comedian from Holby City.
Jennie Peacock MBE is a Paralympic gold medallist will be the first disabled celebrity to grace the show.
Alexandra Burke, winner of X Factor 2008.
It is also thought that the Strictly on a ship will have a shake up next year, so will the new judge and new dancers who are appearing on the cruises in 2018.Share the news.
If you are a fan, and never managed to get a ticket, then it might be easier to see it on a cruise ship. We have two #Strictly previous blogs one on the last fantastic Strictly Cruise and one on the dates for next year, next years cruise  and what to expect.
The route is the same as we explain because the hot bedding and changing of acts between ports work, and there are a lot of stars to move backwards and forwards. Please share within of your friends who are Strictly fans. I am sure they will thank you.
2018 offers seats
If you are new to Doris Visits Cruise TV then welcome, please sign up to our Facebook Page and share with fellow cruisers. We are at sea every month of the year somewhere and post new films of cruise destinations each week.  Facebook.
SEE THE CRUISE BEFORE YOU CRUISE THE SEA. We show cruise destinations all over the world. From St Lucia to Barcelona, from Tallinn to Tenerife, from Rome to Russia. Please follow us on Facebook and Twitter and share.
READ THE CRUISE BEFORE YOU CRUISE THE SEA. In the book charts, SOLO CRUISER BOOK SERIES. Violet Becket has never cruised. In fact, she has been nowhere in a long time. Too long. Book 1, Virgin Voyage has been in the book charts for some weeks now.
Violet has never had romance, never ever. As an older woman time is running out and she needs to make a change. This romantic read is based around cruises because once she cruises she loves it. That is her romance, well, there is a little more. Sally Katz used the films on Doris Visits to peg her books on! With permission. Each book takes place over a cruise! Book 1 is a Canary Islands cruise, Book 2 is in the Baltic, Book 3 is in the Caribbean, and Book 4 goes from the ABC islands through the Panama Canal.