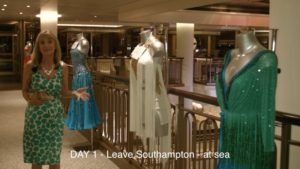 After two weeks away on ship, Ashton Rumba's his way through a Ballroom number and goes, and Debbie slips back a little as the others improve, but we still tip her for a top spot. The standard is very high. They still play the Sunday show as if it is a different day even though the TV critics all let the cat out of the bag that the public vote is closed within a very short time the results are known Saturday night.
Our Game of Thrones film and blog has just gone up
Our tips for Blackpool are still Debbie & Giovanni and also Alexandra and Gorka.
We have two other #Strictly blogs. One on a Strictly Cruise so you can see what you get, and the other an update on the dates for next years cruises and what to expect, as rumours build. The cruise route is the same as we explain because the hot bedding and changing of acts between ports works, and there are a lot of stars to move backwards and forwards. Please share within of your friends who are Strictly fans. I am sure they will thank you.
2018 offers seats
If you are new to Doris Visits Cruise TV then welcome, please sign up to our Facebook Page and share with fellow cruisers. We are at sea every month of the year somewhere and post new films of cruise destinations each week. Facebook.
If you enjoy seeing more about the entertainers you see at sea, then take a look at our show cast! Here is our growing menu of those who work at sea.
CRUISE INSURANCE THAT EVEN THE CRUISE SHIPS SELL, AND WE ADD NOTHING ON, JUST CLICK HOLIDAY EXTRAS – OR OUR BLOG
Want to look around the ships, take a look at our ship tours.