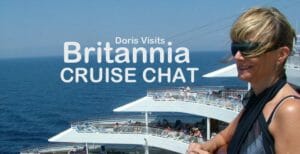 Doris Visits has about 50 chat sites,and we add as the the suggestions are made by you. Some are very active, some not so, but they are all there for you to dip in and out of. The knowledge base of the members is huge and they are willing to share. Also there are often meet ups, the first night, before you may have got your clothes, in the bar at 6.30. Times and place may change.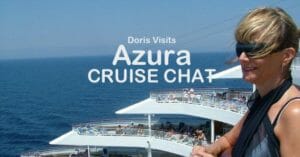 The chat sites we encourage everyone to share their positive experiences, no moaning – gripes should be taken up with the operator and are normally resolved. These sites are not for critics, there are other sites for that. Having worked in film for many years, we don't enjoy critics because no two people like the same thing and we are hear to help you find the areas on a ship you might like. We know no one can please all the people all the time, so on Doris Visits, and in our film guides, by just saying what it is, how to get there, what it costs, the cruiser can make up their own mind.
Doris Visits Azura Chat Group on Facebook Doris Visits Ventura Chat Group on FacebookDoris Visits Arcadia Chat Group on Facebook Doris Visits Aurora Chat Group on Facebook Doris Visits Oriana Chat Group on Facebook Doris Visits Oceana Chat Group on Facebook
So we don't encourage the need to share what you didn't like, someone else is likely to explain it in a different way. A singular bad experience should be resolved with the cruise operator and not on the Doris Visits chat sights.
You can see that some chat sites as they fill up, can really assist others, like our chat site on mobility and for solo cruisers, those travelling alone. We have many more chat sites than listed here.
If you like to chat the cruise, this is a list of Doris Visits chat sites. At your suggestion Doris Visits will open new sites. Here you will find secrets revealed like where the wi-fi is…. Wi-Fi is the first thing searched for at many a cruise destination, and the secret wi-fi locations are secret …. like the library in Martinique while the others group round McDonalds. So, where are the chat sites to re-live your cruise back home?
Some chat sites are for cruise fleets, not single ships. These are there for our normally British cruisers to ask about the different ships. If you have travelled on a Royal Caribbean ship, please join that site so you can explain the difference. We have sites like Regent Seven Seas, Cruise & Maritime, so, we hope that in months to come we will have users who can help with questions. Where are these chat sites to find advice on destinations and ships before you go if it is not here on Doris Visits? – Doris Visits had over 50,000 reads in each of November and December 2017 and has hit 100,000 views in the last year on YouTube.
Cruising can be for dressing up, they are not ferries. However the larger ships can offer some areas where the dress code is relaxed during the evening. Here is our advice… most people will dress up and expect the contractual rules and promises they signed up to when booking to be upheld. Those who do not wish to pack glad rags are often annoyed because they have paid the same for the cruise, but cannot experience the whole ship. We advise, pack something to allow you to experience the whole ship because when on board, one of you will want to join in, and that can cause friction. Pack a dress code outfit. Jeans do not work after 6pm on many ships, some ships they are totally disallowed anywhere after 6pm. The Doris Visits page on dress code, why, how and should I?
Thank you all for passing by and more importantly sharing and contributing! Please press the yellow share to Facebook button when using a page you like, that shares that page. It is important to us that you follow us on YouTube and also like us on Facebook if you can spare the time. And a big thank you for those who booked their cruise via a Doris Visits link and also emailed us to tell us, the small sums we get from the cruise lines for offering this service this year has helped us expand with new films, new guides and separate sections like mobility and scooters.
Cruise destination chat sites – there are loads of ship chat sites, we cover ships, cruise operators and Destination routes. If you want a new group just email us at Doris Visits. Get involved, spread the word, or just say hi and share a picture.
CHAT and share your love of small ships, and answer other peoples questions. Join the Fred Olsen Cruise Chat Facebook Group.
Marella Cruises Cruise Chat – share your experiences, reviews, pictures, films and help others with their questions. JOIN THE CHAT GROUP
Join the Facebook AZAMARA CHAT group and let others know why these ships are special.
Join the Virgin Voyages Cruise Chat Group and share what you would like to see in the new cruise ships. VIRGIN VOYAGES CHAT GROUP
CHAT GROUP – Cruise the Caribbean Chat – If you like the Caribbean share your knowledge here. Great posts with pictures or video get featured on Doris Visits.
CHAT GROUP – Cruise the Adriatic Chat – If you like the Cruising share your knowledge here. Great posts with pictures or video get featured on Doris Visit
FRED. OLSEN FLEET OF SHIPS – the community and chat sites. Click to join.
OTHER SMALL SHIP FLEETS – the community and chat sites. Click to join.
CHAT GROUP – Cruise the Baltic Chat – If you like the Cruising share your knowledge here. Great posts with pictures or video get featured on Doris Visit
CHAT GROUP – Cruise Canada & the USA Chat – If you like the Cruising share your knowledge here. Great posts with pictures or video get featured on Doris Visit
Join the Princess Cruises community and chat and share your knowledge and information with other British cruises who love this cruise line – click here
REGENT SEVEN SEAS – If you have sailed on one of these very special cruise ships, then join and share your knowledge, pictures and films with those still dreaming of such a cruise.
Cruise Ship Chat sites – many of these are well established and very run. Here is a list of some and we will add to them.
CHAT All P&O Ships together – CHAT for those of you who change ships & can compare
MARELLA FLEET OF VERY POPULAR SHIPS
The reason we ask if you would kindly follow us on Facebook and Youtube, is because they both have magic numbers, which if we hit them, allows us to use more facilities which makes life better for you. So please follow Doris Visits and spread the word.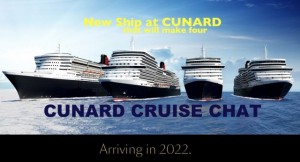 The cruise world has become the centre of entertainment and entertainers. Not just current performers who a generation ago would have played in clubs, clubs now extinct, but older entertainers like ourselves come a enjoy life at sea giving an incredible mix of experience and enthusiasm.
ON BOARD ENTERTAINMENT TO CHAT ABOUT
Basically this is a non profit site funded by our parent film company whose movie Freight is on Netflix, and movie Bula Quo is still on DVD. Many of you will have met Stuart St Paul on board with his day time show on films, scripts, Tv and stunts. We invite you to comment at the end of our blogs and ask you to follow us on here on www.DorisVisits.com and like us on Facebook and follow us on Twitter. Most importantly we are about sharing and working together. We are always looking for a social media person to help us expand so drop us a line anytime at press@DorisVisits.co.uk
In the meantime have a look at the LATE DEALS over a coffee from your arm chair? 'Doris Visits' allows you to SEE THE CRUISE BEFORE YOU CRUISE THE SEA.
GAME OF THRONES TAKE ON DUBROVNIK OUR ANGELS & DEMONS TAKE ON ROME
The Limelight Club normally rotates 4 menus, it's a 3 course menu because you are there to watch an act, it's like a speakeasy. As we are official affiliates of P&O, you can book your holiday here now or if you have booked already and have your details, you can book a table at the Limelight Club as well as excursions via you cruise planner below. The internet is a wonderful thing!