Doris Visits has about 50 chat sites, Scroll down to find your favourite ship'Click' the box or picture you want to join. We add more ships as the the suggestions are made by you. Why join a chat site? To share your information base with others.
MARELLA CHAT – JOIN THE CHAT FOR YOU FAVOURITE SHIP
Click to join
It is our newest chat site. The ship will be sailing summer 2019, we are looking forward to see details of this adult only all inclusive ship.
On Doris Visits chat sites we encourage everyone to share their positive cruise experiences, no moaning – gripes should be taken up with the cruise operator. Our Chat Site GUIDELINES
P&O CHAT – JOIN THE CHAT FOR YOU FAVOURITE SHIP
CHAT MSC CRUISE – UK CRUISER GROUP – Click
These sites are not for critics, there are other sites for that. Having worked in film for many years, we don't enjoy critics because no two people like the same thing and we are here to help everyone. Our Chat Site GUIDELINES
CHAT VIRGIN VOYAGES CRUISE – THIER FIRST SHIP GETS CLOSER
Small ships? Cruising Alone? Mobility Issues needing answers – share here.
We know no one can please all the people all the time, so our Doris Visits cruise Destination Guides on Youtube is just saying what we find, when the public bus is cheaper, combined with the wealth of information on the chat sites, cruisers can make up their own mind.
Simply share what you like, on Facebook or retweet. At your suggestion Doris Visits will open new sites.
FRED. OLSEN FLEET OF SHIPS – the community and chat sites. Click to join.
The Fred Olsen fleet consists of deliberately smaller ships. They are considering a fifth ship, but have said that it will stay within their known sale and image. Dress code is stricter that some lines after 6pm. They have dance hosts and some of the older cruise traditions are upheld. We love these ships and although we haven't been on them for a while we have colleagues who are on them regularly.
SAGA SHIPS – ADULT ONY – OVER 50's JOIN THE CHAT HERE
Other Adult Only Ships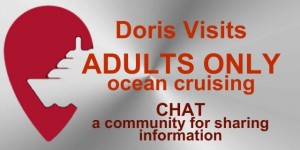 Marella Explorer 2 coming 2019 P&O Arcadia Our Chat Site GUIDELINES
The reason we ask if you would kindly follow us on Facebook and Youtube, is because they both have magic numbers, which if we hit them, allows us to use more facilities which makes life better for you. So please follow Doris Visits and spread the word.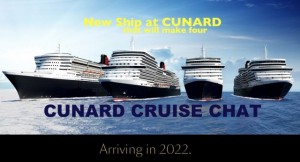 The cruise world has become the centre of entertainment and entertainers. Not just current performers who a generation ago would have played in clubs, clubs now extinct, but older entertainers like ourselves come a enjoy life at sea giving an incredible mix of experience and enthusiasm.