Skjolden in the Norwegian Fjords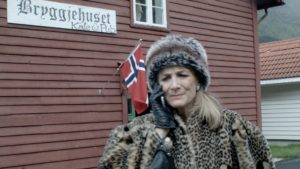 Surrounded by steep land masses that could be called mountains, with spectacular waterfalls, Skjolden is located at the head of the longest navigable fjord in the world – Sognefjord. The weather can change from hot to cold. It was hot and Jean who played the character Doris was baking in this ridiculous fur coat which caused much attention as it was real shorts and tee shirt weather. You can rent a cycle from next to the cruise jetty. The route to the Glacier we are informed is easy, about 15 miles each way and can all be done with the stop at the Glacier in four hours. Ask for advise when hiring they will explain how to avoid one long tunnel, and how to take care through another short tunnel. It is an easy way to see the scenery. We are on this cruise again soon so will try and film the route. This video shows the ship berthed in the bay or fjord Skjolden, it is not our usual travel film, it is the most travel like shots we have of the bay cut from a TV episode we made there. The wooden hut is also from Skjolden though I think we cheated it in the drama as being in Stavanger, the first of the Norwegian 'spy' episodes.
Doris Shades Of Bad, in Skjolden
There was a reason why Jean was dressed like this and everyone else was in shorts. We were filming a continuous drama sequence which we had not completed in Stavanger where is was cold and raining, so we finished it here. If you watch the web TV drama series Shades Of Bad you will notice the use of the places in episodes 44 onwards until 53. The travel show came out of the success of the series after it won numerous awards. Here is the episode with sections shot in Skjolden.
What to do in Skjolden, Norway
As well as being situated in a breathtaking location, the town itself is host to a number of highlights. Once home to the Austrian philosopher Ludwig Wittgenstein (1889-1951), he wrote some of his most important works here. You can visit Urnes Stave Church, the oldest stave church found in Norway, included on UNESCO's World Heritage list. It was built in the 12th and 13th centuries and is an outstanding example of traditional Scandinavian wooden architecture, combining Celtic, Viking and Romanesque design.
Outside Skjolden
In the Jostedalsbreen National Park you can discover everything from fjords to green valleys, farms, barren mountains and glaciers, with peaks rising to 2000 metres. In the heart of these beautiful landscapes stands the Jostedal glacier, the largest glacier in mainland Europe.
We have not shot a travel film here, but we have in Stravanger, Flam, Olden and Bergen, but you can see a shop and the lake in the footage and outtakes, and get what we were up to.
You can get to Southampton Cruise Terminal by coach so, so cheaply have you ever considered it? If you have never cruised, and we are mainly a cruise site, then click here to see how to look at what cruising is.