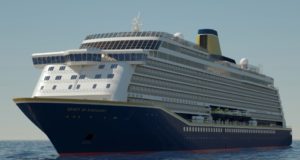 Cruising has become a boom industry and new ships are being built everywhere in all shapes and sizes and with new technology to be more eco green and better to sail. Saga Cruise's chief executive, Mr Robin Shaw has announced the new 999-passenger ship evolving at Meyer-Werft shipyard in Papenburg, Germany which will set sail summer 2019. However, as the maiden voyage is so special, it is already on sale and they are offering a 5% discount if you book now. Being their biggest ship to date, the Spirit of the Discovery will offer widest-ever selection of restaurants. The Grand Dining Room or any of the speciality restaurants will include in a choice of house wines, tips and service charges as inclusive with the food. The Verandah Grill will see the chefs on show cooking in the evening to add a touch of theatre. East to West will pamper to the great enthusiasm British passengers have for Asian food, and Coast to Coast will be a modern sea food dining experience.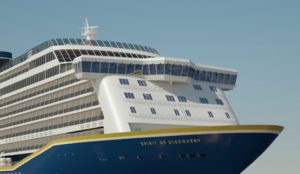 The Living Room is a lunge wine bar, there will be a spacious library, spa with indoor pool and the theatre and entertainment will be state of the art. The build team and so much more information is on their own web site. Click here. In the mean time check out the latest deals from SAGA cruising on their two very popular ships.
Andy Quill, SMC's managing director who has over 25 years experience of large scale designs says, "I think people are going to be surprised with what SAGA will deliver with this ship, expect the unexpected!"
We thank SAGA for supplying these artists impressions we can share with you.
CRUISE INSURANCE THAT EVEN THE CRUISE SHIPS SELL, AND WE ADD NOTHING ON, JUST CLICK HOLIDAY EXTRAS – OR OUR BLOG


If you are new to Doris Visits Cruise TV then welcome, we invite you to comment at the end of our blogs, and ask you for follow us on here on www.DorisVisits.com and like us on Facebook and follow us on Twitter and subscribe to our YouTube Channel to get the best from us. We are always looking for a social media persons to help us expand so drop us a line anytime at press@DorisVisits.co.uk  PLEASE SHARE
SEE THE CRUISE BEFORE YOU CRUISE THE SEA. We show cruise destinations all over the world. From St Lucia to Barcelona, from Tallinn to Tenerife, from Rome to Russia. Please follow us on Facebook and Twitter and share.
READ THE CRUISE BEFORE YOU CRUISE THE SEA. In the book charts!
Sally Katz used the films on Doris Visits to peg her books on! With permission. Each book takes place over a cruise! Book 1 is a Canary Islands cruise, Book 2 is in the Baltic, Book 3 is in the Caribbean.