SAGA PEARL 2 was bought in an auction! Yes SAGA cruises acquired it in an auction in August 2009, and it replaced the SAGA Rose which was then decommissioned. It is a ship that has been operating nearly 30 years and has also been called the Astoria and Quest for Adventure. Even with SAGA it has switched names back and forth. Built in 1981 it was one of the highest quality builds of its day. It is the smaller of SAGA's two ships and has the elegant feel of a yacht, and still packs in an array of features.
Look and book. Look at the ship on the SAGA web site and check availabilitySAGA Spirit of Discovery to have first Jools Holland night club at sea THE CLUB BY JOOLSSAGA SHIPS – ADULT ONY –
SAGA SHIPS – ADULT ONY – OVER 50's JOIN THE CHAT HERE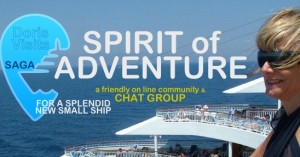 This is the site dedicated to the new ship at sea, the Spirit of Adventure. As or members sail on it, they will be able to answer questions. Click HERE to join the community. Our guests have a wealth of knowledge.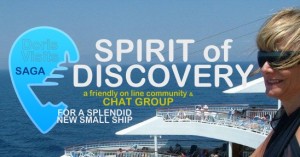 We look forward to the Spirit of Discovery due to sail in 2020 which is so close. Click HERE or click the picture to join.
Our chat guests are a great bunch of people.
Our good friend Marty Kristain of The New Seekers fame is often on board as a celebrity guest and he loves the ship. Say hi to him for us.
Cruise Doris Visits Subscribe. Thank you
Also take a look at the tour of the ship, another tour from 2015, the library and the dining film. We list them all on our site.
If you are worried how to choose which cruise, which ship and where to go, take a look at our how to choose a cruise blog. Why not have a look at the LATE DEALS over a coffee. Doris Visits allows you to SEE THE CRUISE BEFORE YOU CRUISE THE SEA. We have videos of many of the cruise stops you might make from St Lucia to Barcelona, from Tallinn to St Maarten.