ROME guide and bus tour
It was not built in a day and you will not see everything in a day. My guess is you will never see my favourite church! Not that I am into churches but the one in September XII near the Termini takes some beating. If you arrive on a cruise then you might want to go straight to Termini and get the Big Bus tour, see that film. It is normally a long stop here for the cruise ship, we arrived around 7am and had to rebound by 1830hrs, that is fairly standard.  Note, the train comes in past the Vatican, down and round the whole city before that stop. You might want the extra 20 minutes or so by getting off early at San Pietro.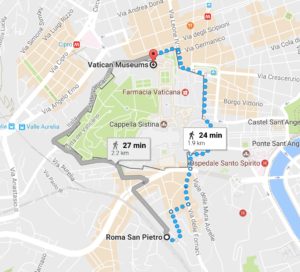 You can, therefore get off earlier and walk in. On the train from Civitavecchia, get off at San Pietro for St Peter's Basilica. It is a 24-minute walk, there are walk/ bus options see Google Transit. Turn right when you see the city walls, the gate is on the left.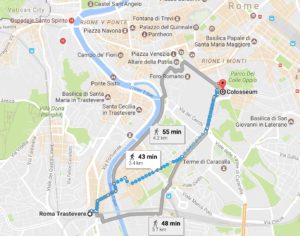 The stop closest to the Colosseum, Piazza Navona, and the Pantheon is Trastevere Station which is a 43-minute walk off tram and bus. See google.com/transit.
Big Bus Tours Rome
You might want the shorter walk to the Vatican from San Pietro, as you will be walking between the Vatican and Colosseum etc anyway.
TREVI FOUNTAIN & SPANISH STEPS
We have just started to edit the Rome material and the Trevi Fountain is up first. As hundreds of tourists fight each and every day to find the best photo spot, Doris Visits reveals where it is. But then, we do have a cameraman with us and that is what he does!
This video goes from the Spanish Steps to the Trevi Fountain and then finds the ice cream shop where you can Pimp Your Magnum.
Rome is a city that can be full of traffic and tourists, and if you are not very mobile or have not been there before you might just want to sit on the bus and take the complete circuit and listen. Then use it to jump between places and take the free walking tours. Here is a film of the bus route and stops, but we do not feature any of the sites, they are in separate films. Click here for discount ticket before you go. Big Bus Tours Rome


St Peter's Basilica
The reason most people go to Rome, to see this opulent estate. The church is free to visit so as the day wakes up the queue stretches and can be two to three hours. Just about everyone will want to sell you a skip the line ticket, these are all agents and they sell a voucher. Even the Big Bus is a voucher and you will have a place to go and meet with a representative to exchange it for your ticket and be taken to your tour at the allowed time. These tours are guided and at the end you pass through the back door into the church, that is how you skip the line. Via a paid tour.
Ruins & Colosseum
The walk from King Vittorio's Monument to the Colosseum passes by many ruins. The walkway is charming in the summer and normally full of street performers. There is a skip the line option here too, and it covers a number of things to see.
Film now loading check Friday.
Piazza Navona & Pantheon
We had to show you both of these. The square is very beautiful and beyond it is the Pantheon which will have a queue. We also show you these because if you are only in Rome for a day or even two, these may be down your list and you might not get to see them.
A brief orientation of Rome so the City won't come as a big surprise ends with a suggestion. There is another way to see Rome. How about re-living the clues in the movie Angels and Demons.
GUIDES AND TOURS MADE EASY FOR YOU
Choose from these many tours in Rome and book direct CLICK HERE

While on YouTube please also subscribe to Doris Visits.
If you are worried how to choose which cruise, which ship and where to go, take a look at our how to choose a cruise blog. Why not have a look at the LATE DEALS over a coffee. Doris Visits allows you to SEE THE CRUISE BEFORE YOU CRUISE THE SEA. We have videos of many of the cruise stops you might make from St Lucia to Barcelona, from Tallinn to St Maarten. Please follow us on Facebook and Twitter and share.