Prague is probably the best weekend treat
We spent a long weekend in Prague and it is a fascinating place because you find places by talking to the locals. They will say which bars to try and someone is playing music, or it has great food. It is said to be one of the top ten pick pocket places to watch, but they won't catch you on a Segway.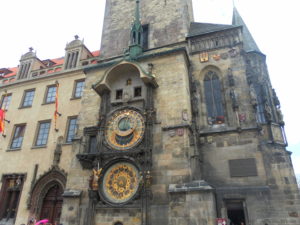 Of all the places we have done a segway tour, this is the best. Where as some take you up and down the beach or round a park, this genuinely feels like a tour that takes you to places. The problem with the Seqway is we have yet to risk a decent camera while riding. But the film is informative and watchable even though it is not a normal Doris Visits travel film.
Cruise Doris Visits Subscribe. Thank you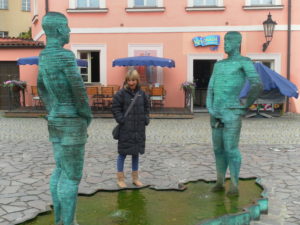 Prague has a strange openness about some things which might not make the streets of London. The statues below are a feature most tours take you to.
The clock in the centre is also a must. I suggest you stay fairly central or in a hotel near a tram stop into the centre which is just as good. Transport is very good. I will be back!
GUIDES AND TOURS MADE EASY FOR YOU
Choose from these many tours in Prague and book direct CLICK HERE
See our Lisbon Segway tour. If you have never cruised, and we are mainly a cruise site, then click here to see how to look at what cruising is. Please follow us on Facebook and Twitter and share.CHAT GROUP – Cruise the Adriatic Chat – New Group, be one of the first to join and start a thread on your forthcoming or past cruise by number – CLICK HERE TO SHARE & CHAT
DORIS VISITS COMPARE CRUISE DEALS BOX takes you to a variety of deals and explains how they are all found.
There has yet to be a book written in the Solo Cruiser series that is based around a mediterranean Cruise, but we here that one is being planned and that it takes place on a Strictly Come Dancing Cruise. The 4th book based in Florida and the Caribbean is due out early 2018. For now, if you have not read them, like in 50 Shades you might skim through the raunchy bits, but they are great cruise books with good stories. It never seems to work out the way it should though. Follow author Sally Katz by clicking her name and then on the author page on Amazon, click follow. Then as she releases a new book your are informed.