How to overview a destination the way film scouts do it
We have been making films and television for a while so we tend to approach new ports the same way. To be frank it is similar to cruising, you are dropped in a new town, you have a set amount of time and a job to do. As a cruiser you may have six or seven hours. It is best to do some work before you travel.
Each destination will want to show off it's best places. If it does not, then they are either restricted access or there aren't any places. So a quick way to look at what the town or city has to offer is to look at the obvious tours, not that you want to go on them, but to see what the options are. The tours will tell you an awful lot about the place. Using our Get Your Guide widget here, type in your destination and see what they offer. On this page we have used the Cartagena as the Guide and Tour target. It offers a few things but the ones that stand out are beach, City walking and Roman tour. At  each port we list we offer tours and guides from that port. There will be many. We also try and find films that will show you the destination. In places like St. Petersburg we show you the tours on film. Follow and share Doris Visits.
The next thing you can do is look at postcards, they always show the best views and where to take the best pictures from. But, you can't do that until you get there, so type the destination into Google and click the images button IMAGE BUTTON, the results for say Paris are obvious, the results for Cartagena are interesting. Now type in 'Cartagena postcards' and it is also interesting although not all the places are the Catagena you want, there is one in Columbo and we want Spain.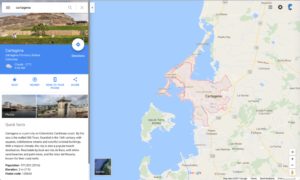 Now click the MAPS button in Google and the tours and pictures can all be considered on the map. Here is the first map offered for Cartagena.
Wikipedia takes some beating for information and links, far too much maybe, but you can often find interesting things. This is the page for Cartagena.
Between Wikipedia and the Tours on offer, and us at Doris Visits, you may have chosen somewhere to go.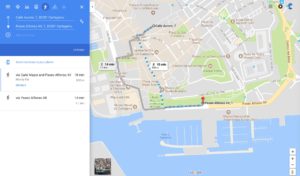 Now go to GOOGLE.COM/TRANSIT and type the port address in and the place you want to go, and it will show you the walk, the kind of terrain and if there is a bus or train route. Often, as with our films on Barcelona and Dubai, we show you how to use the tube and how easy it is. Google transit will give you options and a map to print. TIP . you can add multiple destinations, as we did in our Rome film, and drag the route to your chosen walk. In a city like Barcelona, remember the tube is there for locals to get to work, it is not a tourist aid. Therefore it does not suggest commercial places or places of interest. You need to find the place first, find what tube station it is near, and then the local tube map is an asset. It also tells you buses, arrival times and the length of travel.
While on YouTube please also subscribe to Doris Visits. If you are worried how to choose which cruise, which ship and where to go, take a look at our how to choose a cruise blog. Why not have a look at the LATE DEALS over a coffee. Doris Visits allows you to SEE THE CRUISE BEFORE YOU CRUISE THE SEA. We have videos of many of the cruise stops you might make from St Lucia to Barcelona, from Tallinn to St Maarten. Please follow us on Facebook and Twitter and share.