With so many new ships, they may not all be sailing full at the moment, and the late deal web sites show cabin availability. From the chat sites we are also picking up that passengers are being offered super deals to stay on for the next cruise.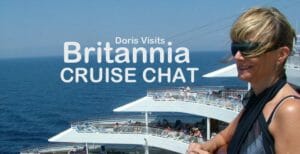 There has never been such a good time to book a late break and that is probably because many did not book the Caribbean in fear it was destroyed. It is not, we have just got back and it is open and looking good. Comedians joke with passengers from Southampton asking if they have a case packed by the door waiting for an on-the-day offer, see if you can get that late offer. We hope we have made it easy for you to get the very latest cruise deal with these links for Doris Visits readers from the helpful team at P&O Cruises.
P&0 LATE DEALS – Can you travel soon? Space on ships about to leave
There is another kind of deal and that is if you book way in advance. Early Savers often pop up and should be considered on ships and cruises that book up fast. For example trying to get a suite or even a balcony cabin on a Strictly Come Dancing cruise, or a Food Hero Cruise might be hard. The Baltic Route can sell out because there are not so many and also the Norwegian Fiords can sell out because unlike the other cruises they can fill with tourists from all over the world as British ships do the Fjords so well.
If you like what you see, then you can book direct through the links on our site. Then, you can look at dinning and excursions. For example, The Limelight Club normally rotates four menus, it is a three course meal because you are there to watch an act, it is like a speakeasy. As we are official affiliates of P&O, you can book your holiday here now or if you have booked already and have your details which will all come via the internet and you will be sent tickets and plans, you can book a table at the Limelight Club as well as excursions via you cruise planner below. The internet is a wonderful thing!
P&O EARLY DEALS Menu 1 Menu 2 Menu 3 Menu 4 P&O LATE DEALS
BOOK A TABLE – GO TO YOUR PERSONAL P&O CRUISE PLANNER HERE
A great travel deal is the coach to Southampton. If you want to compare cruise deals, look at our compare the cruise deal page.
Doris Visits allows you to SEE THE CRUISE BEFORE YOU CRUISE THE SEA. We have videos of many of the cruise stops you might make from Bequia to Rome (Angels and Demons), from St Petersburg to Pearl Harbour. We also have films of some tours.
If you are new to Doris Visits Cruise TV then welcome, we invite you to comment at the end of our blogs, and ask you for follow us on here on www.DorisVisits.com and like us on Facebook and follow us on Twitter and subscribe to our YouTube Channel to get the best from us. We are always looking for a social media persons to help us expand so drop us a line anytime at press@DorisVisits.co.uk PLEASE SHARE
BOOK A SHIP EXCURSION – GO TO YOUR PERSONAL P&O CRUISE PLANNER HERE below are outside operators offer cruises which you can use for research
CRUISE INSURANCE BELOW WITH HOLIDAY EXTRAS – OR OUR BLOG