Netflix is a TV app, Amazon is a TV app, Doris Visits was on a TV app called Opera which no longer works through Daily Motion the way we had it set up but that no longer works. However on line TV and apps on TV will be the future and Doris Visits is building for that future with hundreds of video cruise guides. TV's are not really very smart yet, and if a salesman suggests otherwise pull out your latest Galaxy phone and ask if it is as smart as that.
The lies about HD. Salespeople lied about HD when the TV's went from 625 lines to 720 lines, then to 1080, now 4k 65 inch screens are the normal seller and fill the shelves at Costco. Movie cameras are now 8k and above. So HD means Higher Definition – that is was last week, not High Definition. High definition is way beyond 4k but we think TV and on line streaming will stick at 4k. We just need the UK to get as good internet as many 3rd world countries, some of which like Ghana are entering 5G when we have not even thought that far ahead.
So, TV's are not HD and they are not smart, they are sales lines. Nor have we got fast Broadband. Around 4% of end users have fast fibre broadband, Korea as 60%, Japan 70% and fibre is yesterday. It is very rare fibre will be connected to a house that doesn't have it now, fibre normally stops at the local box.
However, with tests being done to send signals down the electricity mains, OpenReach might be out of a job within fewer years than they thought. Building and owning content is King as they say in broadcasting, and our films are starting to need serious menus, which you can find here.
DORIS VISITS WESTERN MEDITERRANEAN MENU OF PORT GUIDESDORIS VISITS EASTERN MEDITERRANEAN MENU OF PORT GUIDESDORIS VISITS CARIBBEAN MENU OF PORT GUIDESDORIS VISITS CANARY ISLAND MENU OF PORT GUIDESDORIS VISITS FJORDS MENU OF PORT GUIDESDORIS VISITS BALTIC SEA MENU OF PORT GUIDESDORIS VISITS BRITISH ISLES CRUISING PORT GUIDESDORIS VISITS NEAR UK CHANNEL + SHORT CRUISE W.EUROPE MENU OF PORT GUIDESDORIS VISITS SHORT CRUISE WEST COAST FRANCE PORTUGAL MENU OF PORT GUIDES
But, please subscribe to our YouTube Channel, because the numbers will help us reach design goals and extra tools which will aid our route to TV. 1,000 subscribers is the first tier for extra YouTube privileges.
Please subscribe to the Doris Visits YouTube Cruise Destination Guide channel here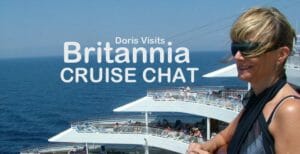 Join the Britannia Cruise Chat – click the picture