Olden is a peaceful village with not a lot to do but relax, unless you hike, kayak or take a trip. A perfect Fjordland cruise stop nestling at the southern end of one branch of the beautiful Nordfjord and at the entrance to the gorgeous Oldedalen Valley.
P&O cruises to OLDEN MARELLA cruises to OLDEN Fred OLSEN to OLDEN
Cruise Doris Visits Subscribe. Thank you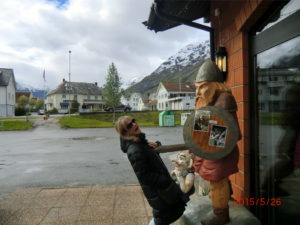 There are a few shops for the fridge magnet collectors and a church to see, so you might consider stretching out further. You can hike, walk, cycle and ski should you wish and they now have two fast ribs, but we never saw them manned or moved. There are also canoe safaris. Most people seem to walk, we walked up towards Skarsteinsetra. It was a walk along a well made tarmac road up the mountain as you will see. It was not as exciting as the walk and climb to the waterfall in Brekkefossen Flam. We also have guide films on Stavanger and Bergen.
Briksdal Glacier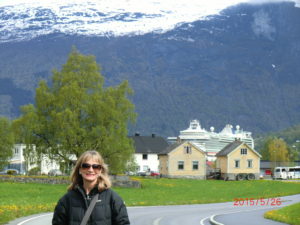 The lake in the valley has been turned a rich, deep green by the river pouring down the mountains from the vast, million-years-old Briksdal Glacier. Maybe you could go fishing, it has that feel. The Glacier has some giant waterfalls that cascade down making the views even more spectacular, especially as you leave and travel out in the early evening. One of the offshoots of the vast Jostedal Glacier now designated as a national park.
Many tours are offered, look on line before you travel to avoid queues or disappointment. Some head overland to the inner Nordfjord area with its wind-blown rocks, towering mountains and verdant valleys. Also in the area are folk and glacier museums, a skiing centre on the glacier plateau and northern Europes deepest lake – Hornindalsvatnet.
Rent a Bicycle
We do recommend an excursion here, or arrange something before you travel as your cruise ship is likely to outnumber the 500 local inhabitants. Book through your ship or locally there are amenities like cycle hire. Tip. It can be roasting hot and sunny, it can rain. Four seasons in one day. Water and walking shoes! Please leave your experiences of what you did here in the comments for others.
You can get to Southampton Cruise Terminal by coach so, so cheaply have you ever considered it?
New Marella Explorer sets sale in a new direction for TUI cruises
VIDEO OF THE NEW SHIP IONA – HERE – NOW – IONA MOVIE – SEE IT !!
Aurora Ship Tour Azura Ship Tour Britannia Ship Tour Arcadia Ship Tour Oceana Ship Tour
ANDALSNES BERGEN FLAM OLDEN OSLOFJORD SKJOLDEN STAVANGER TROMSO
REYKJAVIC AKUREYRI ALESUND ALTA BODO EIDFJORD KLAKSVIK TORSHAVN
GEIRANGER HAUGESUND HELLESYLT HEIMAEY HONNINGSVAG ISAFJORDUR
KRISTIANSUND LOFOTEN ISLANDS LONGYEARBYEN NARVIK
P&O Cruises to Flam – click hereFred Olsen FlamMarella Cruises to Flam – push here