Oahu, Hawaii the Polynesian Island in the USA
The place of many movies, including the new Kong Skull Island, we go to the ranch and behind the scenes at Kualoa Ranch.
Hawaii prepared for huge parties when it was to become the 49th State of the USA, paperwork printed, events art worked then they slowed up and Alaska beat them to it. Had they won the race then that great TV show would have been called Hawaii Four Nine, and kids everywhere would be calling out Four-Nine when they saw police. But, it became the 50th State of the United States of America.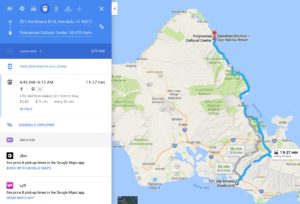 If you are arriving by Cruise ship you will almost certainly arrive at Cruise Passenger terminal 2. There is a bus stop by the terminal where the 55 stops amongst others, that will take you the long way round the island to the North Shore. A short walk will take you to a bus to Pearl City (for Pearl Harbour). This is the correct address for the port if you want to use Google maps and buses. 521 Ala Moana Blvd, Honolulu, HI 96813. Hawaii has also just got Uber.
Disturbingly there are huge numbers or war veterans and homeless on the streets and the Islanders can be heard telling tales of how they think the colder states are giving their homeless one way tickets there so they don't have to survive the cold winters on the main land. That does not stop the many tourists from enjoying the opulent designer shopping, the beaches and the surf. Let us take you around the island.
Oahu is very Polynesian and very American. Those travelling from England and parts of the world with kinder economies will find many things expensive, but the great thing it has adopted from the USA is the fantastic bus service. By going onto www.Google.com/Transit you can find how to get anywhere by public bus and the times the bus gets you there and brings you back, and it is very reliable. The island has transit centres where you can change bus. Every bus is $2.50 to go anywhere and allow one exit and re join or change to another bus within the hours allowed on the ticket, so getting round the island could not be easier or cheaper.
Pearl Harbour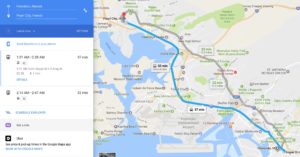 Easy to access by bus, the return bus is on the highway. There there is a huge memorial to the many killed there in the attacks that destroyed the fleet in World War II and there is still a veteran or two who will sign a book though the ones we saw did so with a stamp. There is no fee for the memorial which was aided greatly in the early years by an inaugural concert by Elvis Presley. He played there many times after to continue to help fund the memorial which now salutes many fallen servicemen and ships. There are 4 main sections and each could take a couple of hours and some have charges but it is not expensive. Tour guides can help you. It is important to note that not even the smallest of bags are allowed inside, so don't carry any kind of bag there if you do not need it. You will be made to check it into a locker. When inside, buy the smallest item in the gift shop and you get a free Pearl Harbour bag. Bus 20 takes you there.
External Link – The official Pearl Harbour Tour site.
North Shore
The North Shore is totally different, less developed, more original, more character and far more laid back. It looks and feels more Polynesian and is full of trendy coffee shops full of surfers waiting for the right conditions, or it has big waves and they are out surfing. You can also canoe the inlets.
It is easy to get to the North Shore by bus. The 52 goes straight there, the 55 goes round the coast to it; go one way come back the other. There is nothing much to see on the 52 up other than a banana plantation but most trailers will have seen one of them a few times.However on the 55 back you have various surf beaches, the Turtle Bay Golf and Action Centre, then markets and food stalls as it turns back down. It then passes the Polynesian Cultural Centre and then passes Kualoa Ranch and then back to Honolulu.
Polynesian Cultural Center
Has eight simulated tropical villages some on islands, various cultural demonstrations and seven shows representing the seven Polynesian Island groups, Samoa, Aotearoa (now called New Zealand), Fiji, Hawaii, Tahiti, Tonga and Marquesas Islands. There is much to see and do here and there is a night time show.These islands are thought to have risen out of the sea as fiery Volcanoes, throwing smoke into the sky that travelers could follow to discover and populate. It is thought that Hawaii is a month away from Tahiti by canoe and it has been re-created. Here at the centre there are seven shows throughout the day, shops and exhibitions, our favourite was a display of tools showing how the Ukulele is made. It has an IMAX special effects theatre and visitors may be able to take canoe rides in the lagoons. This film is a sample of what is there, to see it all put some time aside for a visit. There may also be tours from here to the local University and Church as the site is owned by the Church of Jesus Christ and Latter Day Saints.
External link – Polynesian Cultural Centre official site.
Kualoa Ranch
Yes, the place of movies and it is as epic as Skull Kong Island. You can sense it all happening. Take a look with us. Is a Nature Centre and activity centre. This could be a whole day out. Like Pearl Harbour it is free to go in and enjoy the cafe and look around. The activities are listed on their web site and there are many,  priced for high and low season and packages. The ATV tour looked rather slow and tame and the horse ride through the park is a walk, the Film tour is in a coach and the jungle tour a truck. We took two of the tours, take a look. This may help you choose your package. Films like Jurassic Park, Jurassic World and TV shows like Lost and Hawaii Five0 have been shot there. There is also a petting zoo which is free to access.
External Link – Kualoa Ranch official site.
Honolulu and Waikiki Beach
The Waikiki Trolley is their version of the Hop On Hop Off Bus, But most things are accessible by public bus. China Town was a disappointment and can go down your priority list. The beach is good, dining is expensive and service not that great compared to the mainland. You can access boat trips and sea fishing, there is much to do as well as all the same designer shops with the same stock as you will find in any big city.
EXCURSIONS NORMALLY AVAILABLE FOR THE SHIP
Atlantis Submarine Adventure
Diamond Head Crater Trek
Explore and Taste Oahu's Famous North Shore
Honolulu by Helicopter
Majestic Sunset Dinner Cruise
NEXT CRUISES THERE
The Regent Seven Seas Navigator and Maasdam were there while we were in 2017.
OTHER PACIFIC ISLAND BLOGS WITH FILMS