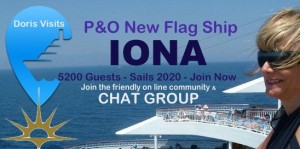 Stephen Mulhern was assisted by a local lady, Jane from the island of Iona, where on the beach she picked from a handfull of people who suggested the name Iona. Iona will be the new ship to join P&O in May 2020, and one of the first if not the first of the Excellence class of ships. This new class of upcoming cruise ships have been ordered by Carnival Corporation and will enter service for several Carnival brands in the late 2018s and early 2020s. P&O we know have two, the first is the Iona and news is eagerly awaited as to her Maiden Voyage which we predict will be in the Mediterranean. There may be a new name competition for the second of the new 5,200 guests ships, as there is a second on order. Now we all know that the winner will have to end in the letter A. All P&O ships do, and traditions are very rarely broken when it comes to ships. Like the coin laying ceremony.
The new ship, we are told will have a Limelight club, because that has been such a huge successful addition to the entertainment areas. But, we have a ship video already – how? Impossible? NO – not in this modern world. Take a look.
Meet the fleet with our famous Doris Visits passenger area tours.
VIDEO OF THE NEW SHIP IONA – HERE – NOW – IONA MOVIE – SEE IT !!
Aurora Ship Tour Azura Ship Tour Britannia Ship Tour Arcadia Ship Tour Oceana Ship Tour
Check P&O own web page for new ship
But if you know your ship, just choose a destination.
PORT GUIDES – WESTERN MEDITERRANEAN MENU OF DESTINATION GUIDESPORT GUIDES – EASTERN MEDITERRANEAN MENU OF DESTINATION GUIDESPORT GUIDES – CARIBBEAN MENU OF DESTINATION GUIDESPORT GUIDES – CANARY ISLAND MENU OF DESTINATION GUIDESPORT GUIDES – FJORDS MENU OF DESTINATION GUIDESPORT GUIDES – BALTIC SEA MENU OF DESTINATION GUIDESPORT GUIDES – BRITISH ISLES CRUISING DESTINATION GUIDESPORT GUIDES – NEAR UK + SHORT CRUISE W.EUROPE MENU OF DESTINATION GUIDESPORT GUIDES – SHORT CRUISE W. COAST FRANCE PORTUGAL – DESTINATION GUIDES