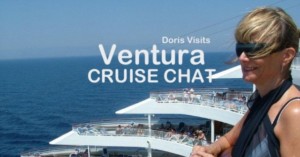 P&O Ventura managed to visit Pizzafest in 2017. If you went join the chat. Click on the picture.
Pizza Village is before, Pizzafest is after school holidays
Pizza Village is where the Pizza world Championship is held. It is a free event featuring pizza demonstrations and exhibits on the waterfront of Naples. It is huge with much partying for a whole week, the third week in June. Pizza experts from all over Itally come to compete especially in the first two days. It draws chefs from over 50 historical Neapolitan pizzerias and over half a million visitors. It has an official web site to list the special events. Click Here.
Pizzafest where the dough is thrown around. For two weeks after the main school holiday season, that is weeks two and three of September, Pizzafest centers at Mostra d'Oltremare, Naples' main convention centre.
Naples is said to be the birthplace of Pizza in the Mediterranean, but the flat bread dish was long established in the middle east before it got to Italy, just as the noodles now know as spaghetti were taken to Venice by the Chinese. Sure, there is a lot to do in this area, just look at the tours to give you a clue, but when someone says Pizza, and they aim to be the best pizza's ever, and fine fine or beer might be involved along with music and dancing lots of street entertainers and a real atmosphere of party! In 2004, in Italy rules were drawn up prescribing how a real Neapolitan pizza must be. Firstly, the dough must rise for at least six hours and must be shaped by hand. Secondly, pizza must be round and not more than 13.7 inches in diameter. Thirdly, it must be cooked in a wood-fire oven with three versions only permitted: Marinara with garlic and oregano; Margherita with basil, tomatoes and cheese from the southern mountains; and the 'Extra Margherita' which must include buffalo mozzarella from the Campania region. Pizza professionals from all over Italy arrive to compete in the competitions.
WHAT TO PACK CARIBBEAN CRUISE CRUISE THE PACIFIC CRUISE DEALS
How to make your cruise coincide…. check the actual dates of the festival you want to attended, then look at the routes and see if one of your favourite ships just happens to be in there. Of call Naples Harbour Master and ask if he can help with a list of ships in on the date you prefer. See our resources on many Mediterranean stops here. The Strictly Come Dancing cruise plays in the Med.
SEE THE CRUISE BEFORE YOU CRUISE THE SEA. Film Guides of Cruise Destinations all over the world and chat sites with your shared knowledge base. CHAT GROUP – Cruise the Mediterranean Chat – New Group, be one of the first to join and start a thread on your forthcoming or past cruise by number – – CLICK HERE TO SHARE & CHAT

Clicking the DORIS VISITS COMPARE CRUISE DEALS BOX takes you to a variety of deals and explains how they are all found.
Marella Cruises Cruise Chat – share your experiences, reviews, pictures, films and help others with their questions. JOIN THE CHAT GROUP There has yet to be a book written in the Solo Cruiser series that is based around a mediterranean Cruise, but we here that one is being planned and that it takes place on a Strictly Come Dancing Cruise. The 4th book based in Florida and the Caribbean is due out early 2018. For now, if you have not read them, like in 50 Shades you might skim through the raunchy bits, but they are great cruise books with good stories. It never seems to work out the way it should though. Follow author Sally Katz by clicking her name and then on the author page on Amazon, click follow. Then as she releases a new book your are informed.
Baltic Route – Canary Islands Cruise – New England Cruise – Caribbean Cruise (from Barbados) – Norwegian Fjords – Mediterranean Routes