Manuel Martinez, cruise ship magician & comedian
Hailing from Havana, Cuba, Manuel Martinez is the number one export after the cigars. Dispatched by the Cuban presidency, Manuel Martinez is Cuba's diplomatic ambassador of comedy. An act that is as comical, witty, outrageous and unpredictable as any I have seen. It is an act you will not forget, even if you forget the excellent singers and other entertainers, this act is unique and self effacing.
Manuel Martinez is a regular on the cruise circuit, as you will have heard me say, where else is there for such great acts to play? The entertainment on board ship is like no other.
Manuel Martinez may be homeless but he moves between the most prestigious cruise ships, off one, on the other. He is a regular for P&O, Royal Caribbean and Celebrity.
Warning, be brave if you dare to get on stage with him.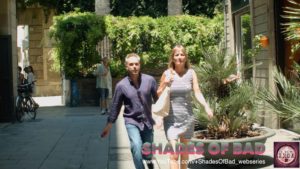 Not only do I see him often, but we have persuaded him to appear in our very offbeat drama Shades Of Bad, which we do now just to see how many stars we can force into it. Manuel appears in three episodes at the moment, but we have more plans …. he starts in an episode we shot while the ship was docked in Barcelona … and from there we move on to take over the world!
It turns out that Manuel is a terrific actor … but of course, he comes from Cuba!
Share the madness – but don't tell immigration.
Find out more about the entertainers and show cast you see at sea & share with friends.
CRUISE INSURANCE THAT EVEN THE CRUISE SHIPS SELL, AND WE ADD NOTHING ON, JUST CLICK HOLIDAY EXTRAS – OR OUR BLOG


Check out some of the great Cruise Routes, our concise films of what a ship offers when it takes a specific route. These are typical routes but we do have films to help cruisers on every popular cruise destination in the world. Baltic Route – Canary Islands Cruise – New England Cruise – Caribbean Cruise (from Barbados) – Norwegian Fjords – Mediterranean Routes
Want to look around the ships, take a look at our ship tours.
If you are new to Doris Visits Cruise TV then welcome, we invite you to comment at the end of our blogs, and ask you for follow us on here on www.DorisVisits.com and like us on Facebook and follow us on Twitter and subscribe to our YouTube Channel to get the best from us. We are always looking for presenters and social media activists to help us expand so drop us a line anytime with ideas at press@DorisVisits.co.uk  PLEASE SHARE
SEE THE CRUISE BEFORE YOU CRUISE THE SEA. Worldwide destination films for cruisers; New York to Barbados, Rome to Stavanger, Bora Bora to Tallinn, Tenerife to Cork.