Doris Visits Madeira with an overnight stay.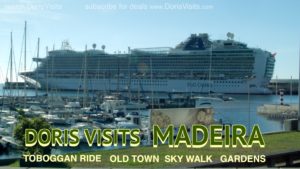 After three days at sea which seemed to fly by, we arrived in Madeira, otherwise known as the Garden Island because of the wonderful display of sub-tropical plants and flowers. A few months before we arrived there was a terrible bush fire that destroyed homes and killed three people. The results were seen from the cable car.
You can walk into town from the ship and it is easy to see the route and how far it is.
It is hardly surprising that large and colourful flower markets are one of the most arresting features of Funchal, Madeira's capital, though next door is the fish market that reminds you the island has a history of using the sea. Madeira is also known for its aquarium where you can dive with sharks, rays, morays and hundreds of other fish. Whale and dolphin watching are other featured activities for visitors to the island which is about twice the size of the Isle of Wight.
The market town is easily walkable and the further you go the steeper and narrower some of the streets become. On Santa Maria street, where there are many restaurants art work can be found on most of the doors. It features on the main Madeira film. Locally made wicker furniture gives a positive aroma to the clean air. Lacework and tapestries are also local trades as is the ubiquitous Madeira wine.
It will not surprise you that Funchal is also the base for tours to the island's botanical gardens; the fishing village of Camara de Lobos where Churchill went to paint, this also features on our main Madeira film. Camacha, the wicker centre; the Levada walks, part of an ancient irrigation system; and to Reids Hotel for traditional afternoon tea, making cruises to Madeira a must do. Many of these sites and more feature in our Madeira film.
See the film on the Monte Palace Tropical Gardens or the Toboggan Ride
Please add your comments and pictures
Tours available from your ship will probably include
Tea at Reid's
Famous Toboggan Ride
Evening with Folklore (if overnight)
Deep Sea Fishing
Cable Car and Toboggan
Levada Walk
Jeep Adventure
Discover Whales and Dolphins by 'rib'.
The Caves of São Vicente
Eco City Tour, Tuhxi Madeira
Farmers Market and Botanical Gardens
Leisurely Scenes of Madeira
If you are new to Doris Visits Cruise TV then welcome, we invite you to comment at the end of our blogs, and ask you for follow us on here on www.DorisVisits.com and like us on Facebook and follow us on Twitter and subscribe to our YouTube Channel to get the best from us. We are always looking for a social media persons to help us expand so drop us a line anytime at press@DorisVisits.co.uk PLEASE SHAREclick here for the New Canary Island cruise menu including West Africa & Cape Verde

DORIS VISITS COMPARE CRUISE DEALS BOX takes you to a variety of deals and explains how they are all found.
BOOK A SHIP ARRANGED CRUISE HERE – GO TO YOUR PERSONAL P&O CRUISE PLANNER HERE