Laem Chabang is Thailand's largest port and is often followed by Bangkok in brackets, but it is not as near to Bangkok as you might like. Laem Chabang is 25 kilometres North from Pattaya and south of the city Chonburi. Bangkok is a 125Km coach trip away, or 1 hour 45 minutes on route 7.
It sits between Vietnam and Malaysia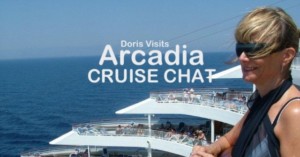 The Port was built to get huge ships into the gulf of Thailand. As you have to sail into the gulf between Vietnam (Phu My, for Ho Chi Minh City) and Malaysia (Kuala Lumpur) it is likely both of those will be on the same cruise routing.
Much of Laem Chabang's old laid-back charm remains, despite its rapid transformation into the country's 'Riviera' – a major gateway for visiting cruise passengers. Located on Thailand's east coast, this tranquil region of fruit orchards, gem mines and oyster and orchid farms, is now also a great place for swimming, snorkelling and experiencing traditional Thai village life. You can either stay local, or be drawn to the magnetism of the bigger cities.
Bangkok
There are many tours available to taste Old Asia; a tour the fabulously ornate buildings of the Grand Palace, where you will see Buddha statues exquisitely worked in ivory, crystal, silver and gold. Or the Royal Barge Museum – home to the splendid vessels used in royal processions.
For shoppers, head for Bangkok which has everything from fake designer good to fine antiques. Barter your way around the markets of Sukhumvit Road and Siam, or browse the traditional shops on Chinatown's Chareon Krung Road.
You will be hard pressed to know what to do first when you visit the fascinating nearby capital of Bangkok, a treasury of old temples, fine palaces and extravagant art. The city deserves its own film and blog and although we have been there on movies many times we have never filed it. That blog is for the future.
Pattaya
The beach resort of Pattaya is much nearer and there will no doubt be a coach trip there which will let you wonder on your own. That is the trip we took. You are dropped in the centre of town and there is much going on and a beach to keep you occupied for the day.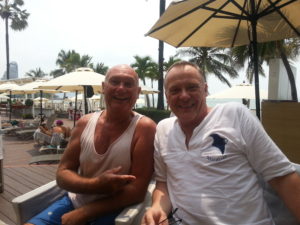 We chose to visit to see a dear old friend from the movie industry Stuntman Dave Holland who sadly passed a few months after.
We took an excursion called 'Pattaya on your own', which got us there.
We walked through the market and down the beach to the other side of town, taking in most of what it had to offer, then meeting Dave for lunch.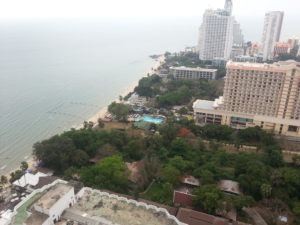 Pattaya is the nearest main city to the port which has for many years been used by the US Navy so many of its bars will have a very US feel. Maybe more so than anything you saw and may have expected in Vietnam.
This visit was on the Arcadia's world cruise 2016. I has a major cruise every year. Here is the next one.
Please share our pages, follow us on Facebook and Twitter and share.CHAT GROUP – Cruise the Adriatic Chat – New Group, be one of the first to join and start a thread on your forthcoming or past cruise by number – CLICK HERE TO SHARE & CHAT
DORIS VISITS COMPARE CRUISE DEALS BOX takes you to a variety of deals and explains how they are all found.
There has yet to be a book written in the Solo Cruiser series that is based around a mediterranean Cruise, but we here that one is being planned and that it takes place on a Strictly Come Dancing Cruise. The 4th book based in Florida and the Caribbean is due out early 2018. For now, if you have not read them, like in 50 Shades you might skim through the raunchy bits, but they are great cruise books with good stories. It never seems to work out the way it should though. Follow author Sally Katz by clicking her name and then on the author page on Amazon, click follow. Then as she releases a new book your are informed.