Jean looks at the Malaysian capital Kuala Lumpur on a World Cruise for Doris Visits. There is nothing quite like a world cruise, and once addicted, you will want to do it again. Most of the ships leave for these adventures just as the new year starts. It is some time before they are in Asia, but you lose track of time.
Two rivers meet in the centre of the Malaysian capital Kuala Lumpur, which may have given it its name 'muddy confluence'. We docked in the deepwater cruise Port Kelang, which is 90 minutes drive away excursion to the capital.
A Glimpse Of Kuala Lumpur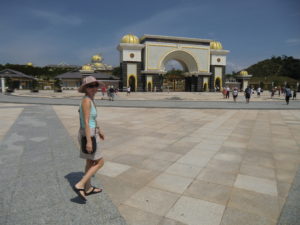 – Is one of the many tours and an easy on the foot one. There is only about 45 minutes of walking the rest is seen from the coach. The main stop and walk being the King's Palace. The coach stops here and the guide shows the best vantage points to take pictures as the gates were closed on the day of our our visit.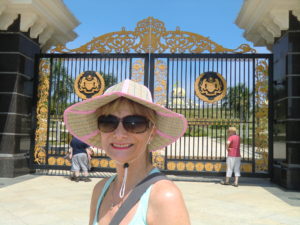 Then on to the National Monument that pays tribute to the valiant soldiers who gave their lives defending the country during the communist insurgency in the 1950's. Designed by Felix De Weldon, the architect of the famous Iwo Jima Memorial.
The Coach then passes by the National Mosque and the Old Railway Station before arriving at Independence Square, where the charming mock-Tudor structure of the British Royal Selangor Club still remains. Photo opportunities are at all the sites.
The tour ends with a chance to see the magnificent Petronas Twin Towers, the world's tallest building until 2003. There is a sky bridge between them which was used in the Sean Connery, Catherine Zeta Jones film Entrapment. Most of our tour was coach bound but there was a lot to see. It was a first glimpse of this magnificent country, next time we will be more adventurous. This visit was on the Arcadia's world cruise 2016. I has a major cruise every year. Here is the next one.
CHAT GROUP ARCADIA – if you are on a world cruise then there are a limited number of ships that do this, the Arcadia is one – If you did the world cruise or have a forthcoming world cruise – CLICK HERE TO SHARE & CHAT
DORIS VISITS COMPARE CRUISE DEALS BOX takes you to a variety of deals and explains how they are all found.