Kerala in Southern India
Doris was inspired to take a tour of southern India because the food is so acclaimed. She also discovered Indian wine which she mentions when she find it again in her film of Atul Kochhar's restaurant. She had no film crew with her, but luckily there is footage from her handicam that shows you just how exciting Kerala is and why it should be a huge consideration for the Bucket List. Take a look.
Cochin, also a cruise port.
Doris actually flew into Cochin and stayed there, so had the advantage of time. However if you do land on a cruise ship walking the streets of Cochin reveals charm as well as wonderful places like the Cocoacraft Chocolate Factory opposite the Syrian Bank in Market Street. A firm favourite was the Kashi Art Factory Cafe which is a place where you might just have to wait for a table. This is highly recommended if you only have time for one place.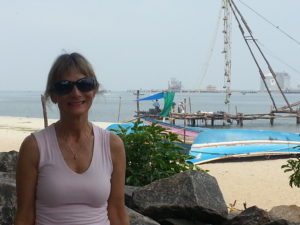 If you want to treat yourself to lunch then the Malabar House Hotel is quite special, eating round the small pool or taking a drink in the wine bar upstairs.
Or you could just walk down and watch the fish being landed, then along the beach and back up the road past the reggae cafe.
Options to eat out are many, including the Armoury Cafe at Brunton Boatyard in Fort Cochin.
The live Indian dance is one thing I could have omitted. It is an example of traditional art form or drama where the performers play everything out by facial expression and hand gestures. A little like a pantomime. It was an experience but did not need to be a whole evening or as long. I would rather have seen a sample of the art form as a dinner cabaret not a night at the local theatre.
Local taxis are cheap and they can also give tours round the area.
Elephant Village. Ride and Washing the Elephants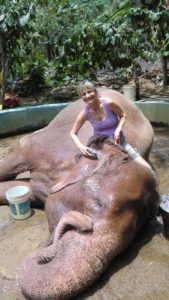 Another highlight was the elephants, not so much the ride but actually spending time with them in the bath. Even though part of the routine is being drenched by them squirting you with with water from their trunks as you will see on the film.
Alleppey
When in Alleppey we walked the back streets up to the railway station, passing houses that people have opened up as AirBnB and Restaurants. Here you book to eat that evening and suggest what you want and they go and buy it in. We took a trip into the local village then got the train back all with little problem once we had managed the work out how to buy a ticket. On the train hawkers come round selling tea and food. It has more of the atmosphere of a small market than a British train where people sit and read contained in their own space. It is an worthwhile experience.
House Boat or Rice Boat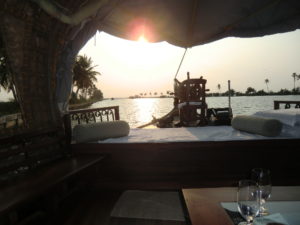 The house boats are also called Rice Boats and it is an experience I highly recommend. It was one of the best trips of my life. As you join the boat they ask your food preferences and they will then order it and the food will be bought and delivered to the boat and cooked by your own chef to your taste.
Kerala is a food experience.
Periyar; Tea Plantation and Spice Garden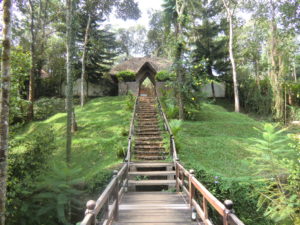 In Periyar we stayed at a tea plantation and visited a local spice garden and took the sensory tour. From here there are a few things that can be done locally and all are very peaceful and laid back. There are a number of atomic spice gardens and we also went down to elephant village.
Marari Beach Resort – Indian cooking and cookery
But there were two main purposes to the trip, and food was one. At the Marari Beach Resort we had cookery lessons each night. Here there is a main restaurant and a slightly more exclusive fine dining fish restaurant further down towards the beach where one night we ate and watched distant lighting crack the sky in half over and over again. Unfortunately we did not have the camera equipment to share it on film.
Two dishes worth trying to cook are here. Bhindi Balacera and Kerala Chicken and Cashew. Both start with coconut oil and frying mustard seeds until they pop. However the magic of the local food will not transfer to the UK, because it is fresh vegetables that are full of a wholesome taste that I am not sure I have ever eaten in the UK. Not even when picked and eaten from a farm.
If you have never cruised, and we are mainly a cruise site, then click here to see how to look at what cruising is.
Why not have a look at the LATE DEALS over a coffee from your arm chair? Doris Visits allows you to SEE THE CRUISE BEFORE YOU CRUISE THE SEA. We have videos of many of the cruise stops you might make from Miami to Tahiti, from Bruges to St Maarten. Please follow us on Facebook and Twitter and share.