If anyone in the industry was asked who is the Cliff tribute, they would say Jimmy Jemain. Recently I got to see him again on board ship. He is quite an incredible Cliff. Let me explain how we first met. I have been a Cliff Richard fan since I was a little girl. Summer holiday was the first film my mum took me to see and I remember we had to queue around the block!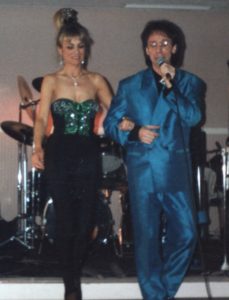 Yes that is me with him, a long time ago. When I was 40 my husband arranged a surprise 40th birthday party. I was part of a comedy trio called the 2 and a half degrees and I thought we had been booked for a Silver Wedding anniversary party. Imagine my surprise when after we had performed the lights went on and there were all my family and friends. Then the real party started. I was told there was a special guest and Jimmy started singing a Cliff Richard number off stage. I really thought my husband had booked Cliff Richard, it sounded so like him. Part of me was thrilled and part of me horrified at how much it must have cost. As it turned out it was not Cliff but a Cliff tribute, Jimmy Jemain. His act was superb and very funny. He managed to get a few of my friends and family up on stage with plastic guitars etc trying to do a Shadows routine.
Fast forward quite a few years and we were on a cruise. I was doing my Royal Mistress talks and who do I bump into in the bar? Jimmy Jemain. He was appearing on the ship and his show was as professional and as accurate as ever. In 1990, Jimmy Jemain won his heat on the TV Series "Stars In Their Eyes" and due to public demand went on to appear on the show a further four times.  
He has been performing his Tribute Show for over 20 years all over the world, in five star hotels, on board luxury cruise liners and at theatres nationwide. When I met him again, Jimmy told me that Cliff is very supportive of his work and when he is performing will send him complimentary tickets so he can keep his act current!
With Cliff completely exonerated and back as good as ever, hopefully, Jimmy will have lots of new material to explore as well as all the old favourites. The audience sang along and really enjoyed the show. It is uncanny how like Cliff Jimmy Jemain sounds. Not only when he is singing but also when he is speaking. We have seen many tribute acts and he is up there with the best of them. Don't forget to go and see him if he is appearing on a cruise you are on. You won't be disappointed!
Have you seen Jimmy, or Cliff. Let me know in the comments. Jimmy Jemain's site is here.
Find out more about the entertainers and show cast you see at sea & share with friends.
Want to look around the ships, take a look at our ship tours.
CRUISE INSURANCE THAT EVEN THE CRUISE SHIPS SELL, AND WE ADD NOTHING ON, JUST CLICK HOLIDAY EXTRAS – OR OUR BLOG

Check out some of the great Cruise Routes, our concise films of what a ship offers when it takes a specific route. These are typical routes but we do have films to help cruisers on every popular cruise destination in the world.                                                             Baltic Route – Canary Islands Cruise – New England Cruise – Caribbean Cruise (from Barbados) – Norwegian Fjords – Mediterranean Routes
If you are new to Doris Visits Cruise TV then welcome, we invite you to comment at the end of our blogs, and ask you for follow us on here on www.DorisVisits.com and like us on Facebook and follow us on Twitter and subscribe to our YouTube Channel to get the best from us. We are always looking for presenters and social media activists to help us expand so drop us a line anytime with ideas at press@DorisVisits.co.uk  PLEASE SHARE
SEE THE CRUISE BEFORE YOU CRUISE THE SEA. Worldwide destination films for cruisers; New York to Barbados, Rome to Stavanger, Bora Bora to Tallinn, Tenerife to Cork.
READ THE CRUISE BEFORE YOU CRUISE THE SEA. In the book charts!
Sally Katz used the films on Doris Visits to peg her books on! With permission. Each book takes place over a cruise and has incredible inside news and information on cruise lines and shipping. She told of the same sex marriage at sea (book2) plans a year before they were released!! Book 1 is a Canary Islands cruise, Book 2 is in the Baltic, Book 3 is in the Caribbean. Adult romance, Bridget meets 50 Shades on a ship!
How to access these deals – use the click here and when on the page, click the brown bar 'see all cruises' just above the pictures of the ships. That will take you to the deals we have.