In the summer the Fjords are a delight. Sailing between the huge mountains, wondering how you are not hearing the sound of the ship scratch the rocks is incredible. Classical music often plays in a section of the ship to set the mood, but you feel like a Viking on an adventure.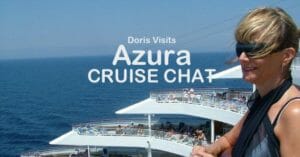 Sometimes, sandwiched between two Fjord cruises is a cruise to Iceland chasing the midnight sun. This year the Azura makes this fantastic cruise and people will travel from all over the world to do it. This year the Azura travels there on the 30th June. See itinerary here. If you are booking please book direct using this link to P&O. A number of people are chatting about this cruise and going, so join in. Click the Azura Chat picture.
Aurora Ship Tour Azura Ship Tour Britannia Ship Tour Arcadia Ship Tour
This route normally goes from Southampton, north stopping at Kirkwall then Lerwick in Shetland which is where we made the movie Devil's Gate which starred Laura Fraser. It will be beautiful at that time of the year. You are then straight to Reykjavik, Isafjordur, Akureyri then back via Belfast, then Cobh before returning to Southampton. There are two full days on this particular cruise to enjoy Reykjavik. You will have the opportunity of many splendid tours like the Hraunfoss and Barnafoss waterfalls or the Blue Lagoon geothermal spa. In Isafjordur you can experience the magnificent natural beauty of the West Fjords. Then catch the midnight sun from Akureyri's stunning setting on Iceland's longest fjord – Eyjafjordur.
We will try and find films of these places as Doris Visits has never been lucky enough to be to any other the Iceland destinations. If you are going, please make a film, enjoy how good it is and let us know.
In the meantime, enjoy the majesty of sailing between the fjords.
P&O ship Azura dropped us there on A720. If you are thinking of a Fjords Cruise here (click) is a quick overview of a number of ports and cities. If you are worried how to choose which cruise, which ship and where to go, take a look at our how to choose a cruise blog.
This is a selection of our Fjords Guide. Flam Guide. Flam Mountain Walk. Bergen. Stavanger. Skjolden. Olden. Enjoy, and if you visit somewhere we do not have a film of, and you manage to make a film especially if it has guides and tips, please let us know.
FJORDS DESTINATIONS MENU – get guides, information and see every Fjord stop here

Clicking the DORIS VISITS COMPARE CRUISE DEALS BOX takes you to a variety of deals and explains how they are all found.