We have to own up and say it is not our favourite port but there are a host of tours. Many rush off to go to the Morrisons supermarket or the very British High Street which claim to be cheaper. What will have you transfixed for a while, is the glass blowing which is well worth a visit. It is on the left as you walk into the square. Take a look at our film.GAME OF THRONES TAKE ON DUBROVNIK OUR ANGELS & DEMONS TAKE ON ROME
Venice evening sail away Zadar Guide Walking the Walls of Dubrovni
If you are using it to go into Spain then take a look at our videos that cover the coast from here to Malaga. They include Sotogrande, Estepona, Duquesa, Marbella, Mijas, Malaga.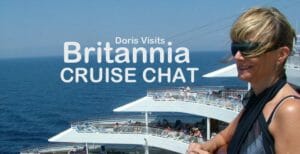 We stopped this time on the Britannia ship, Clip picture to join chat, and the next stop was Barcelona. Wherever you are going, enjoy yourself and please tell others about the films on Doris Visits.
We could not find the glass shop on Amazon, but not to leave you wanting if you missed out, we found this. Click it.
Fancy a road trip from Gibraltar? Check out some great deals on hotels here, try the mountains. Then look at our places along the coast, Sotogrande, Duquesa, Estepona, Marbella, Mijas, Malaga.
If you are new to Doris Visits Cruise TV then welcome, we invite you to comment at the end of our blogs, and ask you for follow us on here on www.DorisVisits.com and like us on Facebook and follow us on Twitter and subscribe to our YouTube Channel to get the best from us. We are always looking for a social media persons to help us expand so drop us a line anytime at press@DorisVisits.co.uk PLEASE SHARE
SEE THE CRUISE BEFORE YOU CRUISE THE SEA.
CRUISE INSURANCE THAT EVEN THE CRUISE SHIPS SELL, AND WE ADD NOTHING ON, JUST CLICK HOLIDAY EXTRAS – OR OUR BLOG