Genoa is a regular Mediterranean Cruise stop
Genoa is a port with an eclectic city of secret beauty displayed in its daring architecture and frescoes found in some almost forgotten noble palaces.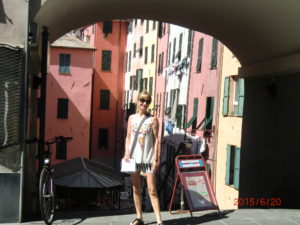 Genoa is the capital of a region called Liguria which is on the coast in north west Italy. Famous for its pesto, which originated from this region, there are many cafes in the labyrinth of narrow alleyways in the old city.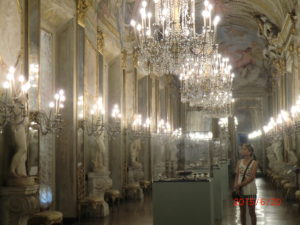 In the centre is the Piazza de Ferrari, with the iconic bronze fountain and the Teatro Carlo Felice Opera House and the Palace of the Doges. Some of the other main sights here include the beautiful black and white striped St. Stefano Abbey and St. Lawrence Cathedral, with its bare medieval style.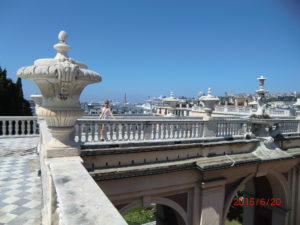 One of the most charming areas of Genoa is the district of Via Garibaldi. Dating from the mid 16th century, it was designed to accommodate Mannerist palaces of the cities most eminent families, including Palazzo Rosso, which is now a museum. This is a city you can wander around easily and discover almost forgotten palaces and homes of real art, some in need of renovation and help. Sometimes it is hard to find the person selling the tickets. The further you get away from the area near the port the more attractive it gets. Aim for the square.
Often the next stop after Genoa is Monte Carlo, click here for the page.
You can also get to Southampton Cruise Terminal by coach so, so cheaply have you ever considered it? If you have never cruised, and we are mainly a cruise site, then click here to see how to look at what cruising is.
Why not have a look at the LATE DEALS over a coffee from your arm chair? Doris Visits allows you to SEE THE CRUISE BEFORE YOU CRUISE THE SEA. We have videos of many of the cruise stops you might make from Miami to Tahiti, from Bruges to St Maarten. Please follow us on Facebook and Twitter and share.