It is rather odd that we never saw Freddie Mercury live, because as young film makers we had a company called Fugitive (we made The Krays with Gary & Martin Kemp as well as endless 1980's pop videos). The overall boss of the company was Queen's manager and we used the offices above the bands touring warehouse behind Capital Radio then at the top of Tottenham Court Road. We never saw them live. Saw the band in and out all the time, never saw Freddie.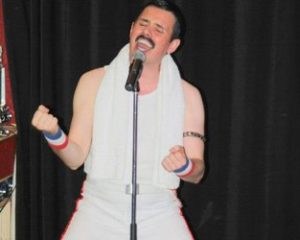 When Dean was first on the same ship as us there was genuine excitement to see him amongst the other acts, who rarely come out of their rooms when not on stage. We were encouraged to go and as that is unusual, we went and we were amazed.
Dean Richardson as Freddie Mercury faithfully recreates the image, voice and flamboyancy of the great man himself. Audiences are always left amazed by the authenticity and intricate detail Dean puts into each and every performance.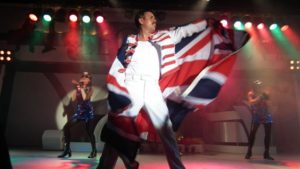 From the moment the music begins and the lights pulsate, Dean explodes onto to the stage and from then on, the energy and exuberance never stops flowing.  From the stunning vocals to the mannerisms, from the outlandish costumes to the moustache, it's all there to ensure that the audience have the very best experience.
After Freddie died I remember having to see a number of tributes to look at possible replacements, and there were none. It was a sad time. To think that many great acts live on not just in their records and recordings, but with tributes. I never saw Dean Richardson's tribute until I saw him on the Azura and he is, without a doubt,  the best 'Freddie' I have seen, and one of the best acts on any ship anywhere. He is also fun and exciting and to top it all he is equipped with great ammunition. You know all the songs, they were hits. You know the anthems, you have sung them. He not only attempts song you dare not go near as a signer, he nails them all from Bohemian Rhapsody to Barcelona. It is a cliche to say there is nowhere to see such entertainment live except on a ship. But it is true for most of the population. And it just goes on night after night. Even when you are on a 114 day world cruise, the best entertainers come from all over the world. But if you get the chance, Dean Richardson as Freddie Mercury should not be missed.
To see more about Dean Richardson, click here.
Find out more about the entertainers and show cast you see at sea & share with friends.
Want to look around the ships, take a look at our ship tours.
CRUISE INSURANCE THAT EVEN THE CRUISE SHIPS SELL, AND WE ADD NOTHING ON, JUST CLICK HOLIDAY EXTRAS – OR OUR BLOG

Check out some of the great Cruise Routes, our concise films of what a ship offers when it takes a specific route. These are typical routes but we do have films to help cruisers on every popular cruise destination in the world.                                                             Baltic Route – Canary Islands Cruise – New England Cruise – Caribbean Cruise (from Barbados) – Norwegian Fjords – Mediterranean Routes
If you are new to Doris Visits Cruise TV then welcome, we invite you to comment at the end of our blogs, and ask you for follow us on here on www.DorisVisits.com and like us on Facebook and follow us on Twitter and subscribe to our YouTube Channel to get the best from us. We are always looking for presenters and social media activists to help us expand so drop us a line anytime with ideas at press@DorisVisits.co.uk  PLEASE SHARE
SEE THE CRUISE BEFORE YOU CRUISE THE SEA. Worldwide destination films for cruisers; New York to Barbados, Rome to Stavanger, Bora Bora to Tallinn, Tenerife to Cork.
READ THE CRUISE BEFORE YOU CRUISE THE SEA. In the book charts!
Sally Katz used the films on Doris Visits to peg her books on! With permission. Each book takes place over a cruise and has incredible inside news and information on cruise lines and shipping. She told of the same sex marriage at sea (book2) plans a year before they were released!! Book 1 is a Canary Islands cruise, Book 2 is in the Baltic, Book 3 is in the Caribbean. Adult romance, Bridget meets 50 Shades on a ship!
How to access these deals – use the click here and when on the page, click the brown bar 'see all cruises' just above the pictures of the ships. That will take you to the deals we have.