Dean Richardson is an incredible Freddie Mercury, the best we have seen anywhere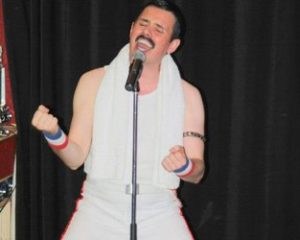 It is rather odd that we never saw Freddie Mercury live, because as young film makers we had a company called Fugitive (we made The Krays with Gary & Martin Kemp as well as endless 1980's pop videos). The overall boss of the company was Queen's manager and we used the offices above their touring warehouse behind Capital Radio then at the top of Tottenham Court Road. We never saw them live. Saw the band in and out all the time, never saw Freddie.
When Dean was first on the same ship as us there was genuine excitement to see him amongst the other acts, who rarely come out of their rooms when not on stage. We were encouraged to go and as that is unusual, we went and we were amazed.
Dean Richardson as Freddie Mercury faithfully recreates the image, voice and flamboyancy of the great man himself. Audiences are always left amazed by the authenticity and intricate detail Dean puts into each and every performance.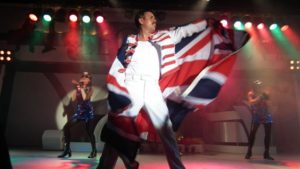 From the moment the music begins and the lights pulsate, Dean explodes onto to the stage and from then on, the energy and exuberance never stops flowing.  From the stunning vocals to the mannerisms, from the outlandish costumes to the moustache, it's all there to ensure that the audience have the very best experience.
After Freddie died I remember having to see a number of tributes to look at possible replacements, and there were none. It was a sad time. To think that many great acts live on not just in their records and recordings, but with tributes. I never saw Dean Richardson's tribute until I saw him on the Azura and he is, without a doubt,  the best 'Freddie' I have seen, and one of the best acts on any ship anywhere. He is also fun and exciting and to top it all he is equipped with great ammunition. You know all the songs, they were hits. You know the anthems, you have sung them. He not only attempts song you dare not go near as a signer, he nails them all from Bohemian Rhapsody to Barcelona.
It is a cliche to say there is nowhere to see such entertainment live except on a ship. But it is true. And it just goes on night after night. Even when you are on a 114 day world cruise, the best entertainers come from all over the world. But if you get the chance, Dean Richardson as Freddie Mercury should not be missed.
To see more about Dean Richardson, click here.
Some other Cruise Ship Entertainers on this site. The Opera Boys, Eric & Little Ern (Morecambe and Wise tribute), Jimmy Jermaine (as Cliff Richard), 4 Tunes.