Great Entertainment you can only find on a cruise
Whichever cruiser you ask and whatever their answer they will probably mention entertainment, food and price in the first sentence. A growing one is family, literally 4 generations can holiday together and be apart, or find their own things to do separately yet holiday together.
I want to focus on entertainment, and I seriously do not know where to start which is why we enlarged the cruise ship entertainer's section in the last week. It is a massive part of cruising.  Not least the huge events like the Strictly Come Dancing Cruises or the Rock The Boats, the American one of which has Sammy Hagar this year or the daring erotica theme cruises.
We are talking big entertainment.
On almost all ships there is a theatre, like a West End Theatre. Huge, fully equipped with an in-house production company, a dance and singing team and a small orchestra. Then add leading men and women from the top west end shows like The Jersey Boys, Les Miserables, Miss Saigon and Phantom. TV stars and TV comedians. Some of the best comedians around like Tucker. There are not many places in the world where you can finish dinner, walk a short stroll to be entertained then just get the lift to bed.
I have not yet put anything like all the stars up, but last cruise I saw a move for move Neil Diamond, and great Tina Turner … and I have seen the best Cliff Richard Tribute. But, maybe best of all is Kai McKenzie who is the Michael Buble tribute, and as you will see from his page has met him and sung with him.
Where can you get this? Comedy from great comedians like Manuel Martinez and our old friend Taffy! Then classic stars like Roy Walker. Then just when you thought that was enough they come at you in groups like the Opera Boys or 4Tunes. They sing pop, they sing classical. Ben Makisi will bring tears to your eyes.
You could stay in your room and watch TV, you could go to the bar and do Karaoke, you could go and play Bridge or sit in one of the bars listening to a pianist or a duo, but whatever you do you have a choice each and every night.
The bigger the ship, like the Britannia, the more the choice with their extra night club, the Limelight club where you can see Madeline Bell one night and Eric and Ernie another.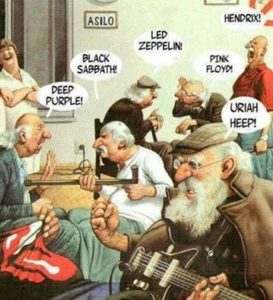 There are trends now on the ships as they compete. Some of the acts, especially the comedians, are now asked to do two 30 minute shows not 45 minutes, and then a third 'late night show' as the audiences are getting younger on the ships and wanting to party later. New ship designs with attractions show the depth of families cruising, and the event cruises like Strictly Come Dancing is for all. The Rock the Boat Cruises are somewhat louder, but named acts are starting to be attracted to the place where there are theatres and night clubs in their numbers… the seas. And if you like it a little more rocky, then look at the themed cruises like Rock The Boat.
Why do people cruise? We have tried to show you. It is up to you now. If you have cruised and have seen these acts, can I ask a favour that you write a great comment about them under their page here so others can see what we mean. It is like giving them a round of applause. Thanks.
Why not have a look at the LATE CRUISE DEALS over a coffee from your arm chair? Doris Visits allows you to SEE THE CRUISE BEFORE YOU CRUISE THE SEA. We have videos of many of the cruise stops you might make from Miami to Tahiti, from Tallinn to Venice. Please follow us on Facebook and Twitter and share.