LIVE AND LET CRUISE as Paul McCartney and Wings famously never sang. Whatever your reason for cruising that is fabulous, but without doubt travel broadens the mind and education, enlarges understanding and breaks down barriers. Hearing travel messages in multiple languages is something we are used to in the UK whether at stations or at airports, so why not on a cruise ship?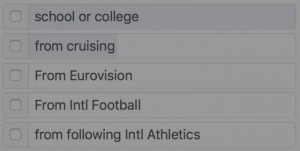 Whether you have worked all year and this is two weeks to lay on the deck in the sun, or on the beach when docked or you enjoy the lectures and history that the cruise offers it is fine with us. Doris Visits is for anyone who loves cruising for whatever reason. But we think we have learned far more about geography since starting cruising, so we ran a poll and a few of our chat sites. The results are mixed. School and cruising are the lead answers after just a few hours, and cruising is ahead, almost double (shade is just seen). The poll is on a few Doris Visits chat sites.
PORT GUIDES – WESTERN MEDITERRANEAN MENU OF DESTINATION GUIDES

Cruising can offer so much, especially to our children. Our children and grand children need to be smart to survive now, they not only compete against the children of the world, but against computers and robots. More and more manual work is being done by machines, computers and robots as as Alexa stands aside for Amelia, a robot that can answer 500 calls at once in a call centre perfectly replacing millions of workers within years, we know our children need to be more than just European in this expanding world.PORT GUIDES – EASTERN MEDITERRANEAN MENU OF DESTINATION GUIDES Cruising introduces people to so much whether it be the history of trade in the Baltic or the wholesale ethnic cleansing of islands in the Caribbean for our ancestors to exploit slaves, or that the Elgin Marbles are not even marbles…. travel broadens the mind, even studying a brochure is possibly a better geography lesson that you had at school.PORT GUIDES – CARIBBEAN MENU OF DESTINATION GUIDES
More and more cruising is changing, not just in that families cruise together, and children are seeing the world, but that UK cruisers are also expanding their horizons and finding cruise lines that are not the traditional fare of UK cruisers. NCL, Aida and MSC have become genuine alternatives used by UK cruisers and here we are looking at the long list of blogs one of our posts started when placed on the chat sites. That of the changing face of cruising and the size of ships. It lead to another whole blog on what we found; not only a number of cruisers who had moved to MSC, but would now never move back.PORT GUIDES – CANARY ISLAND MENU OF DESTINATION GUIDES
It does offer something quite wonderful. The kids and teen clubs, dance floors and entertainment areas are full of children and youths from multiple countries who have to communicate in numerous languages. Though many schools are multiple language this is something different: announcements on board in different languages, and friends they may keep that will connect them with a written foreign language with social media connections. By introducing children at a young age to the need to communicate in a different language surely their acceptance to learn a language increases.PORT GUIDES – FJORDS MENU OF DESTINATION GUIDESPORT GUIDES – BALTIC SEA MENU OF DESTINATION GUIDES
So education can be by osmosis, rather than taught. The geology of the Fjords, the slavery of the Caribbean, the historic European trade of the Hanseatic Baltic, the gods and religions of the Greek Islands, the ancient history of the Middle East, the cultures of Asia or just the languages and foreign friends on a European ship. International sport has become something we all accept now, international cruising has just begun to take off because with over 35 new mega cruise ships currently being built and designed the future for all our children is way beyond just Europe.
Take a look at the ships on our MSC Fleet page – click here
The MSC ships are great family ships, with much on offer. The MSC Poesia is seen here in a 180 degree manoeuvre so you get to see the size of the ship and how similar it is to the Azura and Ruby Princess.
The Norwegian Fleet list is here – click here