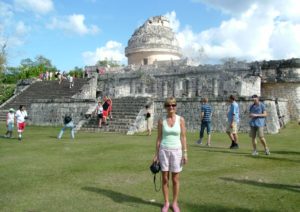 Possibly a stop before or after New Orleans, this coast has a dizzy mixture of soul and food and music. It is very much Mexico, being just off the Yucatan Peninsula where the adventure of ruins and the history of Mayan Villages could begin. If you can be dragged away from the music and fun… what is there not to love.
Want a quick read on choosing a ship – how to choose a cruise blog. Why not have a look at the LATE DEALS over a coffee. Doris Visits allows you to SEE THE CRUISE BEFORE YOU CRUISE THE SEA. We have videos of many of the cruise stops you might make from St Lucia to Barcelona, from Tallinn to St Maarten. Please follow us on Facebook and Twitter and share. Most cruise operators will offer the Baltic as a cruise.
In the book charts, SOLO CRUISER BOOK SERIES. Violet Becket has never cruised. In fact, she has been nowhere in a long time. Too long. 
Book 3 American Portrait is set in Florida and the Caribbean though that book never gets to Cozumel – we know another will eventually as the stories on board ship unfold. Follow author Sally Katz by clicking her name and then on the author page on Amazon, click follow. Then as she releases a new book your are informed.