The Britannia. Where top chefs teach.
The Britannia is a large ship and has more options and new ideas including the fabulous Cookery Club. Ten top celebrity chefs appeared in the first year so watch for programmes, names and dates. The venue has 12 cookery stations that can take 24 people.
Master Chefs and Food Heroes – dates.
P&O have a number of regular food heroes. As well as TV favourite James Martin, the face of The Cookery Club on Britannia, there is master pâtissier Eric Lanlard (Epicurean), Marco Pierre White, Atul Kochhar and wine guru Olly Smith. They join selected cruises subject to their commitments and at the moment this is the list of the chances to meet with them
This information is taken from the P&O web site and subject to their changes, but click the cruise number to go direct to that P&O page and check details and availability.
Follow us on Facebook and Twitter.
When on board these friendly Food Heroes often fulfil a number of large and more private events from sharing knowledge with passengers to hosted dinners. There are normally Q&A sessions, book signings as well as masterclasses. And, have an appropriate indelible pen and a cookery apron to ask them to sign.
Cookery Club on the Britannia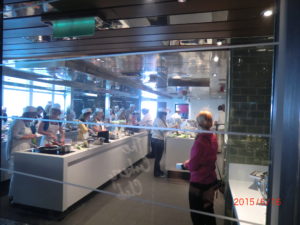 The ship not just feels newer, but it feels a little younger. Cookery and cookery demonstrations in the Studio step in as an enjoyable part of the entertainment on the Britannia. We have been on board at the same time as the very popular James Martin; the theatre was packed for his talk and Q&A. Other guests have included Mary Berry, Theo Randall, proprietor of Theo Randall at the InterContinental Hotel London Park Lane, Michelin-Starred restaurant owner Nathan Outlaw; legendary French-born che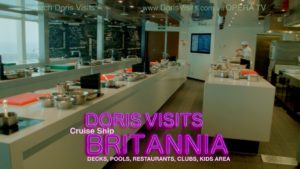 f Pierre Koffmann; Wolseley chef Lawrence Keogh; chef and TV personality James Tanner; modern Indian chef Vivek Singh; Michelin-starred chef Daniel Galmiche; chef and food writer Antonio Carluccio; and celebrity chef Paul Rankin from County Down.
This means you will be cooking where they have cooked and taught. The celebrity kitchen has proved mega popular so consider booking before you go.
Cookery Club
If you are treating someone to the cookery club on board, then look what we have found for you to make it even more memorable for that special person. Even if it is yourself. Be special. These cookery aprons, while not cheap are a holiday treat and they come in 28 different colours!

A cruise ship for the future.
The Britannia offers currently popular TV chefs on board. It has 10 places to eat and 7 entertainment venues. It offers more to do, it is without doubt the most glamorous ship in the P&O fleet with everything to match. Top marks. If you enjoy looking for new things then this is a ship to try. If you like smaller ships then this might be an adventure. It is often the case that when spoilt with the choices and options of a large ship, when you go back to the smaller ship you may miss some of the extra choices.
If you do prefer a smaller ship, take the tour of the Arcadia with Doris Visits. The Arcadia is one of her favourite ships. For the Doris Visits full video tour of the Arcadia click here.
Follow us on Facebook and Twitter.