Doris Visits the Music Composition Studio of Mark Blackledge
How often do you get to see a film music composer at work up close and personal, where he works?
Doris Visits the home of film music composer Mark Blackledge, who wrote the music for the web TV series Doris Shades Of Bad. As Doris now has the travel show Doris Visits (www.dorisvisits.com) that music is now laid on many of the films. Some films like the ones in Botanical Gardens have lots of the scored music, and the film of the Great Belt Bridge in Denmark has music from the orchestrate film score from the Status Quo film Bula Quo.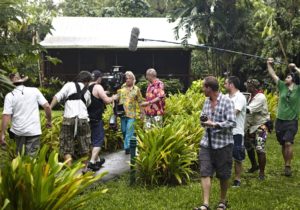 Mark Blackledge scored the music for all the Nativity films, he has worked for Disney many times and has done endless US cartoon series and UK commercials. His relationship with Doris's film company dates back to the dark film about family incest, Devil's Gate starring Breaking Bad's Laura Fraser and Tom Bell.  He also scored for her the music to the film on UK sex trafficking, Freight and the Status Quo film Bula Quo shot in Fiji. In fact, it is Mark Blackledge and guitarist Tim Dodd (one of the best guitarists in the country) who plays the unplugged Fijian Quo tracks in the movie. It makes a marvellous piece under films like the Mijas film. The Botanical Gardens collection is a good place to find Mark's music.
Here is Doris talking with Mark.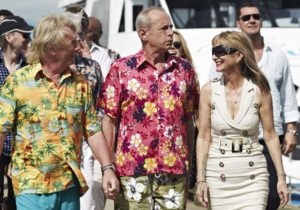 When we upped sticks and went to Fiji to make a feature film with the rock band Status Quo, Mark asked if his son could go as a trainee. The young Buster was taken and worked with the camera team and shot much of the Behind The Scenes footage.
When actress Jean Heard decided to become Doris and have a web presence and series, Buster was offered the job of directing it. There is no better way to learn than to be thrown in at the deep end and have things demanded of you, and then be surrounded by people who have done it before and have the resources to support you. Doris Shades Of Bad has 60 short 3 to 5-minute coffee break episodes, and without that, the travel show would have never started. Doris Visits came from experimentation and this series. Doris Visits has a huge future and will continue using the music of Mark Blackledge. But what of the series.
Doris Shades Of Bad has an offer to shoot new material and re-edit it in a very different way to make a TV-length series. Buster has just shot a section of a film he wants to make and a second short, then came back to work camera for the girls on a test episode they had written themselves. Enjoy the film on composition it is a rare insight. Please share with others, and for Mark Blackledge's services contact us through this website as he is represented by INDYUK Films.
The film of the Great Belt Bridge has a section of music taken from the feature film Bula Quo starring Status Quo (available from Amazon, released by Universal). Bula Quo is a light comedy romp, where Francis Rossi and Rick Parfitt see a murder and are chased by villains. In getting away, they take a tiny old plane to escape to an idyllic island. The music is interesting because it moves from a comic exchange in the film where they talk about Ricky Parfitt dying in Fiji, to the flight. For this, there is a Bond-like feel to a Quo like music heritage, played by a full orchestra, now used for a cruise ship to sail under a bridge.
Finally, now Doris has a library of music, she can lay the various music cues where she wants. Here is a video of how she does this when editing.
If you have never cruised, and we are mainly a cruise site, then click here to see how to look at what cruising is.