It is time to start thinking of missing the winter! Before you know it, Strictly Come Dancing and X Factor are here and the run-up to Christmas. Some will be planning where to have that New Year's Eve Cruise.
A tour of the cruise ship Arcadia is on this site. One of our favourite ships. It is classed as a mid- size ship, but we suggest it has the facilities of a larger ship. It has in our mind the best Sindhu fine dining restaurant in the P&O fleet being on a high deck with terrific views. However, the Arcadia has the feel and ease of an adult only small ship. On the world cruise it feels more spacious because although it may be full, many will be single occupancy cabins with a lot of single passengers. See our solo traveler page.
99 nights away! Wow. There is nothing more relaxing and enjoyable than a long cruise and if you have been toying with the idea this is the cruise to make you decide. When on board for a long time, it soon becomes your home. Food is cooked, entertainment is taken care of, and if you don't want to pay for laundry service there is a laundry room (video). A tip, as you are away for such a long time, there is often a long queue at excursions when you first get on board. Don't wait, start to enjoy your cruise now by doing your homework and booking some of the tours you want on-line. You sail back via the Middle East and you just have to see Petra, and the trip has a 'wonder of the world' awaiting you. This cruise is packed with jewels and is a bucket list cruise to envy.
To help you decide on this cruise and what to do when on it, if we have films we list them as links (not big picture invitations or this article would be huge), and a sample of ship's excursions are listed at the end. This is going to be a wonderful adventure, Doris has joined the Arcadia World Cruises before, this time she joins in the middle at Hawaii.
Here is a tip, if you wish to view our films while away when internet is poor, download them before you go using 'clip convertor'. Internet charges are too expensive while away and you might wish to refer to Dubai or Lisbon later in the cruise.
Madeira first stop, 13th January 2018
The Arcadia leaves Southampton on the 2nd January and sails to Madeira. You may be on an Asian adventure but do not underestimate the jewel that is Madeira. We have three extensive films on it. Madeira the general tour, The Famous Toboggan Run top to bottom, and the Tropical Gardens has its own 9 minute film which it fully deserves. You can walk along the front to the cable car and go up to the gardens. All seen on the films including the contact for a motorbike and side-car tour.
Barbados, 19th January 2018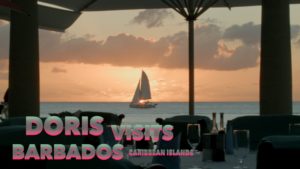 Again you just get a day here but the cruise terminal is just a few hundred meters on the left on the road into town. You cannot miss it and for $2 you can get a bus to Mullens bay and enjoy lunch. We have two films on Barbados, Barbados General Tour and the Barbados West Coast and Botanical Gardens. You have time to do either.
Curacao, Dutch Antilles – 21st January 2018
We went here on a Fred Olsen ship as celebrity guests long before we started Doris Visits, it is a wonderfully colourful island.
Full transit Panama Canal – Panama – 23rd January 2018
The Arcadia can get through the Panama Canal, the Azura is 2 meters too wide. We went through on the Black Watch and it is quite an experience.
Huatulco, Mexico – 26th January
Mexico os one of our favourite destinations, and as we showed in our film of the World Travel Market, they have a huge stand because it is a hugely popular destination. We have yet to visit this stop.
San Francisco, USA – 1st February 2018
San Fran is a place everyone who goes there seems to love, it is on our bucket list, maybe we will run this section another time. You will get to cruise under the Golden Gate Bridge … someone film that for us, please. Alcatraz, China Town, Union Square, this needs some planning. We can't wait to film it.
Hilo, Hawaiian Island 7th February
Volcanos, waterfalls, and breath- taking scenery.
Honolulu, Oahu – Hawaiian Islands – 8th February 2018
There is so much to do but as the ship dock by a public bus stop, the island is your Oyster. See our blog on Oahu and the many films, which show you most of what you need to know. From Pearl Harbour to the Polynesian Cultural Center. Click here for blog and films for many  answers to Oahu.
Pago Pago Tutuila, American Samoa – 13th February
Pronounced with an N, like Pango.  The volcanic Island. Natural History museum and public Island.
Nuku Afola, Tonga – 16th February 2018
Beautiful beaches.
Australia and New Zealand
Auckland, New Zealand – Feb 19th
Bay OF Islands – 20th Feb
Sydney, Australia – Feb 23rd & 24th
Brisbane – Australia – Feb 26th
Great Barrier Reff – Australia – Feb 28th
Yorkeys Knob – 1st March
Manila – Philippines – 7th March
Shanghai – 10th March
Hong Kong – 13th & 14th March
Nha Trang, Vietnam – 16th March
Golden beaches. Town.
Phu My – Vietnam 17th March
We stopped here 3 years ago on the Arcadia. You know when someone has been to Phu My, they have bought the standard Polo type shirts that start at 2 for ten dollars as you get off the ship then, are more like 10 for 2 dollars as you get further away from the ship. Our film covers a little of the water puppets.
Singapore – March 19th & 20th
so you will be eating peanuts and throwing the shells on the floor in the bar at Raffles.
Lang Kaki – 22nd March
Colombo – Sri Lanka – 25th March
Mormugoa – 27th March
India, the sunshine state of Goa.
Dubai – United Arab Emirates – 31st March – 1st April
Being a very popular destination we have ten films on Dubai, they cover eating in Dubai, Shopping in Dubai, and Near to Dubai Cruise Terminal. There are others from the beach to Marina and The Madinat, as well one from the SkyBar on the 124th floor of the Tallest building in the world. All films show you how to get there via the Metro. Worth watching them all as you are only there for a day.
Muscat – Oman – 2nd April
Aqaba – Jordan – 8th April
Jordan is another place that should be on everyone's bucket list. If you have not ever been to Petra, then I can highly recommend this destination where you will remember iconic visions from Indiana Jones. Jerash may be just too far …..
Sharm El Sheik – 9th April
Suez – Egypt – 10th April
Cruise by Messina Strait – 12th April
Naples – 13th April
Cadiz – 16th April
External Links – Honolulu, Oahu – Hawaiian Islands – 8th February
we have extensive films here to help you choose, and here are the trips normally on offer
Tours
Atlantis Submarine Adventure – 5 hours
Diamond Head Crater Trek – 3 hours
Explore and Taste Oahu's Famous North Shore – 6.5 hours
Honolulu by Helicopter – 1.75 hours
Majestic Sunset Dinner Cruise – 2.75 hours
Majestic Whale Watching with Lunch – 3.25 hours
Monarchs and Missionaries, Hawaii's Royal History – 4 hours
Natural Highlights of Oahu – 4 hours
Navatek Sunset Dinner Cruise – 2.75 hours
Pearl Harbour and Honolulu – 5.5 hours
Tropical Rainforest Nature Walk – 4 hours
Waikiki Beach Break – 4.5 hours
Whale Watching – 2.75 hours
Book this wonderful cruise direct with P&O through but go in through our link please, by clicking this link. Thank you, we appreciate it. Enjoy and we will see you end January beginning of February. Click here.