In Bruges, eat chocolate, see the film.
Chocolates and Happiness
Yes those roses are all made of chocolate. So is EVERYTHING else. Gino says, "you can't buy happiness, but you can buy chocolate!" He should have been the 5th Beatle. I interviewed Gino at the end of the day and sadly the equipment was as tired as I and the batteries went in the radio mic so his explanation of the family business is not all on the film, but Gino and his shop is. This is a very classy chocolate shop near the tower in the main square. If you pop into Chocolates and Happiness please ask him about the shop and say Doris sent you. here is the film to get you in the mood.
If Bruges is on your way back from a two week Baltic cruise you may well be exhausted, but the good news is that with just a few days to home any chocolate bought as presents might make it home. None of mine did. These chocolate roses are just one of the many wonders.
CITY
Bruges is a trek from the cruise port of Zeebrugge which translated means Bruges by the sea. And Zeebrugge is a small town by the sea. To get to Bruges you have to grit your teeth and do the journey. Or, take an excursion.  Journey – Shuttle bus to Blankenburg, then the train to Bruges station, then a 20 minute walk to the old town. Here is the film that will get you there and show you round.
Bruges is known for chocolate, mussels and the mussels from Brussels. I met Jean Claude Van Damme on one of the many films he has done with my husband, when I flew to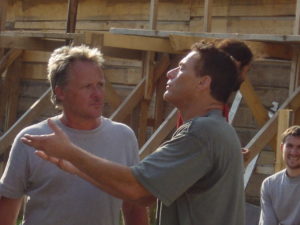 Romania to see Stuart on our estranged 25th wedding anniversary as he was away on another movie abroad. Jean Claude offered to join us for our anniversary dinner, but, I politely declined. He is a most charming man full of charisma.
In Bruges it was my turn in front of the camera and chocolate became such a feature it has its own film.
Canal Boat Ride in Bruges
I have to recommend the canal boat tour, and I am not normally strongly recommending a tour, but this is both short and cheap. The saving of time at these locations is as important as the saving of money. Bruges is of coarse Euros. Enjoy the tour with me here in this film.
Bruges is a city you can visit on a City Break by many means not just a ship. It is a city you could spend some time drinking local beer in, sadly we only had one quick drink at the station waiting for the train. But, we will be back, Bruges is on most Baltic Cruise. If you are thinking of a City Cruise, then take a look at our Baltic overview film if you have not seen the full length films. It is a short snap of many ports / cities all run together so you can get an overview.
You can also get to Southampton Cruise Terminal by coach so, so cheaply have you ever considered it? If you have never cruised, and we are mainly a cruise site, then click here to see how to look at what cruising is.
It is in Bruges that the Violet's Story in the SOLO CRUISER book series has a few twists to the good and bad., that happens in Book 2, Perfect Storm, and it is. Enjoy a romantic read that explains chocolate. All free on Kindle library.

Why not have a look at the LATE DEALS over a coffee from your arm chair? Doris Visits allows you to SEE THE CRUISE BEFORE YOU CRUISE THE SEA. We have videos of many of the cruise stops you might make from Miami to Tahiti, from Bruges to St Maarten. Please follow us on Facebook and Twitter and share.