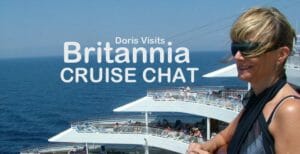 The Limelight is a cabaret venue with a three coarse meal. It is not a restaurant where you sit, eat and talk, it is a cabaret venue and you go to watch star acts. It is like a Speakeasy but times have moved on from chicken-in-a-basket and the food has a selection of choices. It is an adult only venue. You have your appetiser, the act comes on introduces themselves and does a 20 minute spot, you then eat, main and dessert and the act comes out and performs while you drink coffee and wine.
This is a special night and it costs a small premium. It has been such a success on the Britannia that it is being put into the new P&O ship which will hold 5,200 guests. The acts are key because you are buying to see them perform up close and personal with no fighting for seats. Stars who have played here include American singer songwriter Dean Friedman, the UK hit duo BoysLife, x-Factor winner Samantha Bailey, the hugely talented Darren Day who absolutely amazed us when we saw him, a favourite of ours, TV star and singer, Dean Andrews. Then there are our golfing mates, Eric and Ern with the timeless tribute to Morecambe and wise which is uncannily real, so real that the family watch their every move. Then there has been Claire Sweeney, Madeleine Bell and Kiki Dee the list is getting longer. P&O BRITANNIA CRUISE DEALS @ THOMAS COOKCRUISE DEALS SPECIFIC TO THE P&O CRUISE SHIP BRITANNIA – CLICK HEREPlease subscribe to our YouTube Channel while watching the film, hitting number targets enable is to have more design options with Google.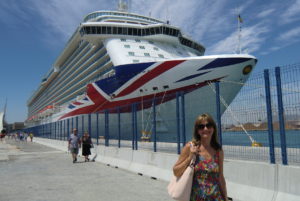 The Limelight club normally rotates four menus, it is a three course menu because you are there to watch an act, it is like a speakeasy. As we are official affiliates of P&O, you can book your holiday here now or if you have booked already and have your details which will all come via the internet and you will be sent tickets and plans, you can book a table at the Limelight Club as well as excursions via you cruise planner below. The internet is a wonderful thing!
P&O EARLY DEALS Menu 1 Menu 2 Menu 3 Menu 4 P&O LATE DEALS
BOOK A TABLE – GO TO YOUR PERSONAL P&O CRUISE PLANNER HERECHAT GROUP – Cruise the Canaries Chat – New Group, be one of the first to join and start a thread on your forthcoming or past cruise by number
Now take a look at the Epicurean. We can't wait to hear the stars they have lined up for us in 2018, and as soon as we know, we will repost this.CRUISE DEALS SPECIFIC TO THE P&O CRUISE SHIP BRITANNIA – CLICK HEREThe Limelight is one of the benefits of a bigger ship, which has exceptional facilities for those who wish to enjoy them. Some may find the bigger ship a lot to deal with, but it is designed for the new face of cruising. Families cruising together, three of four generations. Regular cruisers will soon find it is a reflection of all that is best on the other ships, for every age group, but newer, smarter and with more. There is the Crystal Room with a dance floor so dancers don't have to dance in the atrium. Bigger means more choice, and although there are more passengers, there are more places for them to be. Bigger means more options. The food is always good on board ship, but here that seems better too, it feels like it is. Remember to budget for the extras and excursions.
Aurora Ship Tour Azura Ship Tour Britannia Ship Tour Arcadia Ship Tour
So, if you fancy trying the Britannia for the first time, the Canary's is a great first cruise.DORIS VISITS CARIBBEAN MENU OF PORT GUIDESDORIS VISITS CANARY ISLAND MENU OF PORT GUIDESDORIS VISITS FJORDS MENU OF PORT GUIDESDORIS VISITS BALTIC SEA MENU OF PORT GUIDES