Britannia cruises the Canary Islands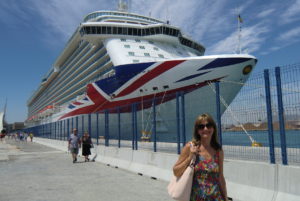 Britannia B728 is off to the Canaries Sept 17th. Click here to check availability.
As we are on and off ships all the time, you get to notice the differences. There are constants, the entertainment is second to none, and sure, we, like the entertainers move from ship to ship. But the Britannia (our film) has something extra in the entertainment department that the others ships do not have. The Canaries will never be the same after reading the Virgin Voyage, but that is certainly not on the Britannia though some of the later books seem to reflect it. On board reading for those who don't mind if their stories have some sauce – Solo Cruiser !
LIMELIGHT CLUB
This is a dining club, like a Speakeasy. One of the additional extras as well as the fine dining restaurants you may be used to. The difference is this has a small stage, small dance floor, and the act comes on after the first course and does just a couple of numbers and an introduction, then after the main course, then at the end. The venue is so small that artists like Madeleine Bell, who is excellent in this kind of venue, walks round the tables, singing and talking to you. The act changes every four days or so, and they have a group that really works, including the new Morecambe and Wise tribute, Eric and Little Ern who will be on National television Christmas 2016. This club is one of the many differences.
The Cookery Club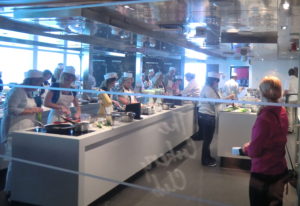 You have seen celebrity bake-off. Where there are rows of kitchen ovens and work spaces. Here it is on a ship. For those over 18 and keen to cook this venue is led by Britain's favourite TV chef, James Martin. He is sometimes on board and is a great raconteur whether in the packed theatre on in 'his' kitchen. Your Cookery Club team – hand selected and trained by James himself – will guide you through a wide range of inspiring classes, taking inspiration from James's favourite dishes and the destinations Britannia will visit. Hands-on tuition to help you develop essential cooking techniques and those all-important presentation skills. There are also some specialist classes…..
The ultimate class for chocolate lovers – Calling all chocoholics – this is the class for you! Led by The Cookery Club team, you will be transported to chocolate heaven, starting with a tasting session that will teach you the essential skills you need to select and work with chocolate. Next, master the art of making truffles using ganache filling and a liqueur of your choice – perfect for giving as gifts. To finish, we will share what we believe is the world's best chocolate brownie recipe.
You might want to book this before you go, once you are booked these things become available via your log on link. See dates of FOOD HERO CRUISES
THE BIGGER SHIP
Some may find the bigger ship a lot to deal with, but regular cruisers will soon find it is a reflection of all that is best, but newer, smarter and with more. There is that added venue with a dance floor so dancers don't have to dance in the atrium. Bigger means more choice, and although there are more passengers, there are more places for them to be. Bigger means more options. The food is always good on board ship, but here that seems better too, maybe it isn't, but it feels like it is.
So, if you fancy trying the Britannia, then the Canary's is a great cruise out of Southampton. Let us show you the places rather than detail them. Take a while to look at them. There can be no doubt this is a first class ship. This blog lists cruises to the Canary Islands. Click here.
Madeira
We have three films on Madeira. The two which are not featured below are: 1. the complete toboggan from top to bottom in case you are wanting to do it but need to see what it is. 2. The Tropical Gardens which demands it's own film and gardens are not everyone's first choice. However, these are exceptional. The film below has bits of everything you might choose to see.
La Palma
For those of you who have only done the most popular Canary Islands, you are in for a treat. Easily walkable, as we show, this little known smaller island is a charm.
Tenerife
You may have been there, but you may not have been everywhere as the island is quite extensive. On the public buses and trams, which we show you, we get to three different places.
Gran Canaria
Again, a bigger island with a lot to do. We see the old town, then go to the beach for lunch, all within the time and on public buses. We show you how.
Lisbon
Lisbon needs planning. Avoid the shuttle bus if you can and walk in. We show you why. Then take tram 28 for a cheap way to see everything, or like us, be adventurous…..
So, quite a cruise on quite a ship. Click here for a list of Canary Island Cruises.
Other operators and ships take this route. Look here. Why not have a look at the LATE DEALS over a coffee. Doris Visits allows you to SEE THE CRUISE BEFORE YOU CRUISE THE SEA. We have videos of many of the cruise stops you might make from Miami to Tahiti, from Tallinn to St Maarten. Please follow us on Facebook and Twitter and share.