Barcelona! Barcelona!
You can hear the late great Freddie Mercury sing. It is a place of great food, great wine, wonderful architecture, fountains and art. The art starts at the port but as a cruise passenger you have no chance in seeing everything in a day; which is good. Barcelona is a place you can go back to many times. Las Ramblas is a short walk, the Metro station is at the bottom, buses are before you get that far. It is almost an easy town, it is easy if you plan. Know where you are going and which tube/Metro it is by. Five people might be able to share a ten tourney travel card if you only need two journeys, not sure if it is the way it is meant, but two certainly can share a multi journey ticket. Barcelona is a big city, we have a few films to help.
Doris Visits shows you how easy the Metro is – it will save you money.
The Metro is very easy, but you should plan what you want to see and search the local Metro Station that is near before you arrive as local maps are not always the best. The tube does not show tourist destinations, tourist maps don't show the tube. We get you to the church on time!
Park Güell
Is a housing development that Güell asked Gaudi to design, it failed, the council took it over and now it is a park on the hill with stunning views. The number 24 bus will drop you at the gate. You MUST book on line before you go, the interiors of the houses have timed entrance spaces. The park is free.
Barcelona , Camp Nou
There is so much to see, not just Barcelona's Football Stadium. The Camp Nou Experience has become an obligatory stop for visitors to the city. The Experience gives the chance to walk through the most emblematic areas of the stadium. Their description? Doris did not want to stop there on our first visit to Barcelona, but it is a stop on the Hop On Hop Off Bus, which is great value for money and one of our favourite Hop On Bus tours.
GUIDES AND TOURS MADE EASY FOR YOU
Choose from these many tours in Barcelona and book direct CLICK HERE
Antoni Gaudi, Artist and Architect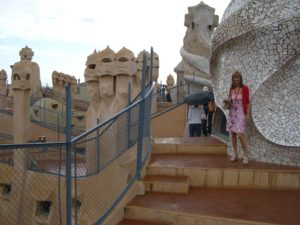 Art is all around you once you enter Barcelona, and much is from or influenced by Gaudi. Antoni Gaudi was a Catalan Architect born in 1852 whose works were of an individual distinctive style. There is so much of his work, that you can easily do day trips and longer just on Gaudi. There are parks based on his work like Park Guëll on Carmen Hill opened in the year of Gaudi's death and in 1984 made a world Heritage site. You are asked to book on-line to avoid disappointment.
Gaudi's Sagrada Familia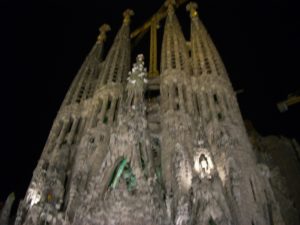 Most of Gaudi's works are in Barcelona and the centrepiece has to be the church Sagrada Familia. It was started in 1882 and Gaudi took over the project the following year. By the time of his death at the age of 73 less than a quarter was built. That was in 1926 and it appears little has changed and there is cache value in the famous unfinished church which you may well have to queue to see.
Montjuic Castle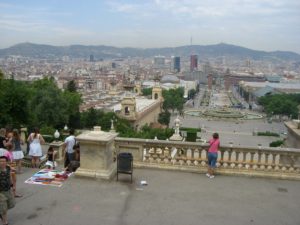 Montjuic Castle has 360-degree stunning views of the city and overlooks the port being 173 metres higher. It is a historic reminder of Barcelona's various turmoils throughout history.
The Museum of National Art also stands housed on the Montjuic hills. The building is free to enter, the museum has a cost and there are botanical gardens to walk around between them. The Metro to Pl Espanya is the cheapest and faster way to the museum. The castle is either a taxi or a fair walk from the museum, through the gardens.
Barcelona is a place where if you had a week you would find lots to do, and in a day you need to choose wisely or just get an overview using either of the Hop On Hop Off bus companies. One has two routes, the other three. Some of the buses have free WiFi.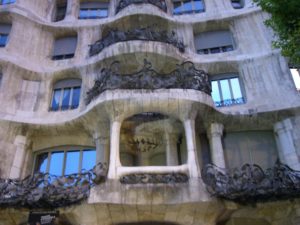 NEW TO CRUISING?
If you are worried how to choose which cruise, which ship and where to go, take a look at our how to choose a cruise blog. Why not have a look at the LATE DEALS over a coffee. Doris Visits allows you to SEE THE CRUISE BEFORE YOU CRUISE THE SEA. We have videos of many of the cruise stops you might make from Miami to Tahiti, from Tallinn to St Maarten. Please follow us on Facebook and Twitter and share.