Cruising the Baltic Sea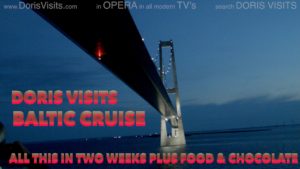 This was as still is, a main trading route from the day man built ships. Many of these medieval towns were built as part of the Hanseatic League and have left us with a legacy of history that will take more than one tour even to overview. This is a tour you need to plan, Doris Visits is here to help you.
Cruise ports in the Baltic reveal great cities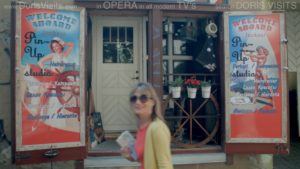 A quick overview of a Baltic Cruise can be found in the film below. It is a brief introduction to the wealth this post- medieval and Hanseatic trading region has to offer. Doris Visits has many films on many ports and some films on excursions to help plan what is going to be a busy trip. If you never get to the Baltic, go there with Doris.
This film is a short burst of seven great cities; St Petersburg, Copenhagen, Helsinki, Stockholm, Tallinn, Bruges, and Kiel. It will definitely wet your appetite and show you this is no easy ride. This cruise needs planning. If you do go, you will be thankful that you now have digital cameras and camera phones as there are so many photo opportunities. Imagine the old fashioned cost of films and developing when on a trip like this.
While the film plays you should be able to jump to any one of the films on the city shown, using annotations, if not find them back here at the web site.
Tallinn
Tallinn was by far our favourite. It is easy to walk into town from the cruise port as the Doris Visits Tallinn film shows. It is a wonderful small town with a lot to see above ground, and interesting tunnels underground. The beer is lethal.
St. Petersburg
On the first visit to this city of opulent church and palaces, even with two days, you may do little more than get an overview. These films will help you quickly see most of the town, making sense of your visit and helping you earmark what might do when back for a second visit. Or, some films may overview and you can focus on what you want to see. There is often an overnight, and we also show you one of the evening excursions on offer.
Bruges
Often on the way home, Bruges is a small town, easy to see with a good 30 minute canal tour you can do at any time of the day. There are so many chocolate shops we gave chocolate it's own film. The only effort here is the transfer to Bruges from Bruges by the sea (Zeebrugge).
Stockholm
A collection of small islands it is wise to get a handle on early. You might like to do some planning here as the Changing Of The Guard at the Palace is smack in the middle of the day. The Doris Visits films will help you.
Copenhagen
The place of excellent free walking tours, Doris Visits will show you where to find them and what they cover, and where the Little Mermaid statue is and why you might decide to give it a miss.
Helsinki
Finland always feels like more of a fishing port but there is no reason why; they are all fishing ports. The market is on the harbour, it has all the major shops and a tram which will run you round in a huge figure of 8 for a few euros. And it has a great beach area so you might just wish to chill. Click here.
Overnight
If you have an overnight in St Petersburg and do not go on an excursion, whilst the free dining may be special, the 'fine dining' options may be offering a free bottle of wine and you might like to take advantage. Take a look at Marco's Ocean Grill as an example. Click this text.
Most operators will cover the Baltic route. You have many options. Why not have a look at the LATE DEALS over a coffee from your arm chair? Doris Visits allows you to SEE THE CRUISE BEFORE YOU CRUISE THE SEA. We have videos of many of the cruise stops you might make from Miami to Tahiti, from Tallinn to St Maarten. Please follow us on Facebook and Twitter and share.