Atlantic crossing, the stop at Ponta Delgada
Ponta Delgada, Sao Miguel is not in the Caribbean, but in the Azores mid-Atlantic. Because of its position the island is visited on many Caribbean cruises to and from the UK. Many cruising fans will book this crossing just for the ship and the journey.
Ponta Delgada
The town itself can have four different seasons or weather changes in a day. If you are on the way home from the Caribbean it will feel chilly, on the way out it will feel warm. It is pretty and quite Spanish in style but there is little to see other than a few churches and the square so you might want to book a tour or activity see the options on the Get Your Guide section. It is one of the best places to dive, and that can be arranged before travel. See our film for a contact. It is not an easy port for ships to get into, so the cabaret artists always fret that the weather might not allow them to get in to make the transfer to their next contract.
The bus tour is cheap and quite short so best left to the end of the day when there is no queue. There are two gardens you can walk to one of which features in the film below. It has a children's area. This is a Portuguese island with less than 100,000 residents. These volcanic islands have been populated since 1444 and the first to be established were fishing villages.
Military Fort and Museum
The military fort and museum only costs a few euros, again because there is little to see and it will not take long. It is a small fort with good views of the harbour and your ship from the battlements. The other rooms are full of guns and weapons and some medical and hospital equipment used throughout the ages in times of conflict. The film below shows you some of the things you will find in the fort.
Car, bike, and scooter hire. Scuba and boats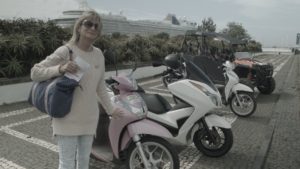 If you turn right as you get off the ship, not left into the town, there are outlets in the port buildings for rental and trips.
In a temporary type building on the port, you will find the very helpful divers featured in our main film of Ponta Delgada.
If you are doing the Atlantic crossing, don't forget to take sickness bands with you, they take up no room and if bought before you go cost very little.
The Atlantic Crossing is something that some cruisers love, so enjoy the ship and sailing, so there are cruises that will go out of Southampton, to the Caribbean and back to Southampton. These cruisers will know Ponta Delgada. Please share and help this resource grow by booking your next cruise through our links below direct with the company.
The Adonia is back with the fleet and has a number of Atlantic Island Cruises, some take in the Azores. Click here.
Why not have a look at the LATE DEALS over a coffee from your arm chair? Doris Visits allows you to SEE THE CRUISE BEFORE YOU CRUISE THE SEA. We have videos of many of the cruise stops you might make from Miami to Tahiti, from Bruges to St Maarten. Please follow us on Facebook and Twitter and share.
Book 3, American Portrait, is in the Caribbean !!   SOLO CRUISER BOOK SERIES. Violet Becket has never cruised. Infact she has been no where in a long time. Too long. Book 1, Virgin Voyage has been in the book charts for some weeks now. 
Violet has found and lost romance by book 3. Before she started cruising she had never had romance, never ever. As an older woman time is running out and she needs to make a change. This romantic read is based around cruises because once she cruises she loves it. That is her romance, well, there is a little more. Sally Katz used the films on Doris Visits to peg her books on! With permission. Each good read shows off a typical good cruise. But it is not about the places or the ships, you will know them back to front, if not you will get to know them. It is about Violet's journey. Warning, there are two versions; HER VIRGIN VOYAGE is the lighter version, but VIRGIN VOYAGE is the full fat with full raunchy version like 50 Shades. Her Virgin Voyage has all the story just about 2500 words shorter. It is about a woman discovering life late in life, Violet's story ranges three books. The second is a Baltic Cruise, again there are two versions, the third in the USA / Caribbean and there is only the lighter romance version as her story concludes for a while. Book four follows another character you have met and liked.  Follow author Sally Katz by clicking her name and then on the author page on Amazon, click follow. Then as she releases a new book your are informed.
Book three, American Portrait, is in the Caribbean. Like any of the books it can be read as a stand alone book, but book 1, Her Virgin Voyage and book 2, The Perfect Storm set up Violet. In American Portrait she meets the painter John Collins on the Coco Beach Pier. You will note we sold them pictures and some from this cruise feature on front covers.  Book 3 cover sports a picture of ours from Key West.