Andy Wilkins, Comedian
Andy Wilkins is a cheeky and hugely likeable lad who we first me on the Black Watch crossing; Panama to Tahiti. In that week we became great mates and he appeared in our ICON released movie Freight which is currently on Netflix, with Billy Murray, Jean Heard (Doris), Laura Aikman (Jean's real daughter) and Craig Fairbrass. The film went on to win awards all over the world traveling nearly as much as Andy does in a short month!OUR GAME OF THRONES TAKE ON DUBROVNIK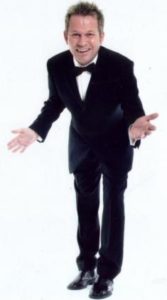 Andy is always in demand, because he is funny without resorting to smutty comedy so plays to the entire family of all generations, and that is something cruise ships are finding more and more now. Complete families cruising together.
Andy graduated from the Yorkshire Working Men's Clubs and his extensive experience includes Summer Seasons for the Haven, Warner & Butlins Centres throughout the country. He has worked with Cannon & Ball, Gerry & The Pacemakers, Marty Wilde, Rose-Marie, The Drifters, Showaddywaddy and Joe Longthorne, and in 2002 he appeared at the Blackpool Grand Clubland Performance.
Andy also works as an after-dinner speaker and comedian at corporate events for large companies and associations, as well as private parties for birthday celebrations and anniversaries.
You will see him from ship to ship.
Andy Wilkins can be found here. Or search Andy Wilkins Comedian.
CHAT GROUP – Cruise the Adriatic Chat – New Group, be one of the first to join and start a thread on your forthcoming or past cruise by number – CLICK HERE TO SHARE & CHAT
DORIS VISITS COMPARE CRUISE DEALS BOX takes you to a variety of deals and explains how they are all found.
There has yet to be a book written in the Solo Cruiser series that is based around a mediterranean Cruise, but we here that one is being planned and that it takes place on a Strictly Come Dancing Cruise. The 4th book based in Florida and the Caribbean is due out early 2018. For now, if you have not read them, like in 50 Shades you might skim through the raunchy bits, but they are great cruise books with good stories. It never seems to work out the way it should though. Follow author Sally Katz by clicking her name and then on the author page on Amazon, click follow. Then as she releases a new book your are informed.