Almería Information, time to be a cowboy!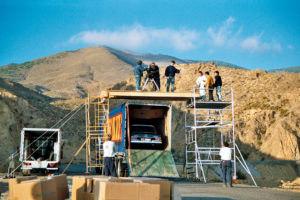 We have filmed in the mountains near Almería and been based there, but not filmed it as a guide. It is a city in Andalusia, in the southeast of Spain on the Mediterranean Sea up from Malaga. It is the capital of the province of Andalusia. Almeria comes from the name Al-Mari'yah and dates back to the time of the Malaga's fortification and citadel Alcazaba founded by Abd-ar-Rahman III. Famous for the textile and silk trade it was taken by the Christians in 1489 then devastated by an earthquake in 1522. It did not really come back to prominence and get rebuilt until the 19th Century. It's economy is now driven by supplying much of Europe with vegetables. We went there to use the mountains and shoot a TV commercial for Yorkie Chocolate which must have been about 1985.  About 35 minutes away in the Tabernas Desert is the Cowboy Town or Western Theme Park, known as a mini Hollywood. But there are other tours that the ship will offer or you can research here. This is where young stunt performers train before getting onto teams to do shows like Game Of Thrones.
Almería is a great place to walk around and explore, until we film it, here is a view that helps show it.
If you are worried how to choose which cruise, which ship and where to go, take a look at our how to choose a cruise blog. Why not have a look at the LATE DEALS over a coffee. Doris Visits allows you to SEE THE CRUISE BEFORE YOU CRUISE THE SEA. We have videos of many of the cruise stops you might make from St Lucia to Barcelona, from Tallinn to St Maarten. Please follow us on Facebook and Twitter and share. Most cruise operators will offer a lot more than the popular Mediterranean, Caribbean and Baltic cruises.
In the book charts, SOLO CRUISER BOOK SERIES. Violet Becket has never cruised. Infact she has been no where in a long time. Too long. 
Follow author Sally Katz by clicking her name and then on the author page on Amazon, click follow. Then as she releases a new book your are informed.