Eric and little Ern are magnificent as Morecambe &  Wise
There are links between most of the acts everywhere, a thread that binds like minds. Jean Heard (Doris) plays golf with Ian and Jonty at the Stage Golf Society, as do many other acts, like Marty Kristian of The New Seekers also a regular on the ships with a page on this site. Eric and Ern start to play the Cunard ships this year.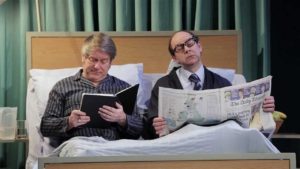 This year they have made a Christmas TV special with Eric Idle professor Brian Cox who was recently in a show in the Canary Islands with Stephen Hawkin and Manuel Martinez, who appeared with me in the on line TV show Shades Of Bad…. circles, as the New Seekers sang.
Now Ian and Jonty, who first met at drama school in Birmingham in 1983, where they became firm friends are the double act everyone has always told them they should be.
Their portrayal of some of the best know gags of Morecambe and Wise (also known as Eric and Ernie), is uncanny. With the full permission of the family and the owners of the work this new tribute act has been built into something quite special to repeat genius that history had thought it had lost. The original British comic double act, Morecambe and Wise worked in variety, radio, film and most successfully in television. They ran from 1941 until Morecambe's death in 1984. They have been described as "the most illustrious, and the best-loved, double-act that Britain has ever produced". If you liked them, then Eric and Little Ern will be the treat that will bring back so many memories.
Ian and Jonty's success with Martin Clarkson, has taken them from the golf clubs to the Edinburgh Fringe to London's West End Vaudeville Theatre and now cherry picked by P&O especially for the Limelight Club on the Britannia. Doris now rarely sees Ian and Jonty on the golf course, but does meet up with them when their schedules cross somewhere at sea.